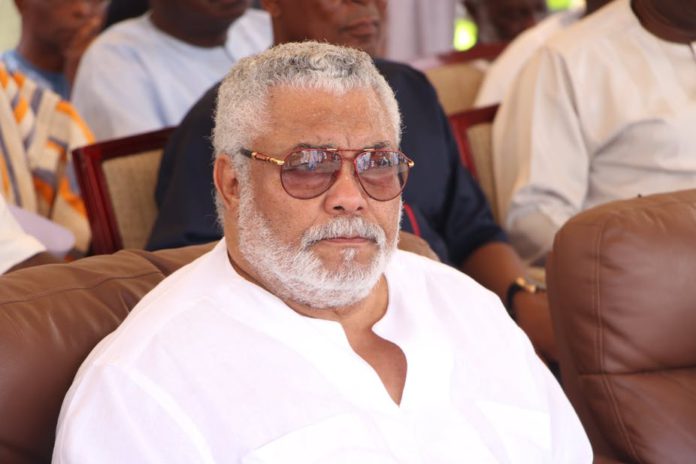 I am not an expert in economics and I am not an expert in law, but I am an expert in working on an empty stomach while wondering when and where the next meal will come from- JJ Rawlings.
On 12th November 2020, former President JJ Rawlings joined God's heavenly assignment on a rather sad note, leaving many Ghanaians and admirers across the globe in utter shock. This untimely demise has no doubt left a big vacuum in the Ghanaian political leadership stratosphere.
Down memory lane, there are a lot of untold stories of how Rawlings intricately showed leadership from May 15th to June 4th all in 1979, then in December 1981 to 2001 when he handed over power peacefully to President John Agyekum Kufuour after successful elections. This very episode is purposely targeted at some key concepts that defined his leadership character and actions.
The Concept of Inclusion and Diversity in Political Leadership
JJ Rawlings's leadership style revolved around inclusion and diversity management. He was a true advocate for the underdogs. In other words the voiceless in society. For Ghana and for that matter Africa to succeed, the concept of inclusion and diversity in our political space must embrace and engender the practice or process of creating an enabling environment for equal access to opportunities and resources including for people who are marginalized as well as members of other minority ethnic groups across the country. Deliberate efforts must be made to value and give premium to promoting that culture of diversity and inclusion at every stage of our socio-political trajectory.
As we solemnly commemorate the third year of President Rawlings' departure, it became very necessary for me to point out a critical oversight in two of our major institutions that serve as epicenters of peace and security of the nation. It is important to underscore the fact that, the Ghana Police Service and the Ghana Armed Forces as part of the most important organs of the state unfortunately fall short of the critical ethnic balance or representation on their councils. A balance is needed to foster national cohesion, trust, and an appreciable degree of integrity to administer security and justice equitably.
The culture of inclusion in Ghanaian politics started way back and the NDC, the party founded by JJ Rawlings continuous to play significant roles which culminated in fostering an inter-religious cohesion where traditional leaders, Christians, and Muslims could create strategic alignments and synergy and spirit of tolerance for national development. People from all faiths, creeds, and ethnic groups were part of his leadership, and the same can be seen in the current structure of the NDC leadership and social structures including opposing political parties.
The Creation of the Office of the National Chief Imam and Muslim Holidays Rawlings' pursuit of inter-religious inclusion and national development evolved over time with comprehensive statecraft that succeeded in creating the stable political and security architecture we enjoy today as a nation.
It is instructive to note that, one of the most significant contributions of Flt. Lt. Jerry John Rawlings to Ghana democracy was the modern inter-religious peace and security architecture he horned through the creation of the office of the National Chief Imam, a milestone that remains a citadel of peace, national cohesion, wisdom, and spirituality in Ghana and beyond. In addition, his political vehicle the NDC, as the largest and most diverse political party in the history of this country largely gave this country a taste of leadership across every sector of our society. Through his leadership, Ghana experienced and had a taste of diverse religious and ethnic representation. As a result, national policies and programs were made through the full participation of diverse social classes in leadership and decision-making. In addition, it is interesting to note that, JJ Rawlings though a Catholic, took a profound step as a true believer in national cohesion and inter-religious tolerance by instituting two national Muslim holidays to deepen the quest for religious tolerance and inclusion in national policy and development.
Democracy he once said, "Is not realized merely by having a machinery for registering voters and getting them to vote every four years, but also a machinery for identifying the needs of those voters in between the election periods, and monitoring the realization of those needs." Meeting the needs of the people was at the top of his agenda.
Rawlings's Quest for Ghana's Political Stability- the Ghana we want.
Ghana's political stability is grounded in the events (June 4 1979 and December 31, 1981) that occurred over four decades ago. To some, the period is a reminder of pain and grief but for many others, it represents a dogged aspiration to sanitize a political system that provided an unclear direction of where Ghana was going. It was intended to stop the decay in the body politic and engender a sense of patriotism in the people who had become despondent and extremely apathetic. The spontaneous acclamation of those events reflects the long-standing desire of a people to take control of their own destiny. The June 4 revolution was strong enough to persist. This is attributable to its values and underlying principles. The values of probity, accountability, and transparency in political administration resonated with both the ordinary person and the growing middle and intellectual class. Support was spontaneous.
The return of Rawlings in 1981 consolidated the process of putting Ghana on a sustainable path of democratic growth and good leadership. Creating a sanguine political atmosphere under the 4th republic for the emergence of competitive politics was a natural consequence of the appetite that had been raised for the adoption of competing political identities and postures that could further promote the growth of Ghana. It led to the union of different political forces and the emergence of two dominant forces.
The National Democratic Congress (NDC) which is a direct descendant of June 4 1979 and December 31, 1981, assumed the natural left and adopted a social democratic ideology to guide the development of its policies and programs aimed primarily at the underprivileged and the sustainable development of Ghana as a whole.
The National Democratic Congress (NDC), the biggest and most successful political party in Ghana he founded so far served four terms(1992-1996, 1996-2000, 2008-2012, and 2012-2016) in Ghana's recent democratic history under the fourth republic. Historically, the connecting factor between the NDC, PNDC, and AFRC revolves around the vision, ideals, and leadership of Jerry John Rawlings and this vision must be launched in a bigger way to sustain the spiritual connection of the party to its base. Any effort that is made to downplay the ideals he stood for and specific milestones of his life including his death should not be entertained.
Rawlings fostered ideas that spoke to Ghana's struggles and the urgent need to emancipate the Ghanaian mind from the shackles of poverty and ignorance.
Humility and congeniality were some of the effusive qualities of Jerry John Rawlings. As a leader, he left his political footprints on our nation's political landscape to the irritation of his adversaries and the respect of his admirers. Unlike leaders whose political ambitions are driven by material acquisitions under worthless national slogans and policies, JJ Rawlings was indeed the man of the people; a pure-breed leader who was ahead of his time; a bitter reality his detractors will only admit behind closed doors.
The sad part is, some latter-day politicians have come to entertain the thought that, the near invocation of the name of Rawlings would earn them a noble place they hardly deserve. What these politicians fail to understand is that 'Rawlingsm' is an evolving ideology, which is not replicable by mere declarations. Rawlings' ideology is not only relevant to politicians, and scholars, who understand that the philosophy is transformative. Those who seek the benefits of Rawlings' principles must view them from the pragmatic perspective of Rawlings, and how his spirit continues to speak to the struggles of Ghana and Africa in the New World Order.
In conclusion, a series of leadership lectures we had discussed when he was alive shall be delivered in memory of this grand legend of our time in a multi-faceted way, and in that spirit, I sincerely urge the leadership of the NDC to take deliberate political and leadership steps to champion the ideals and values he stood for through public lectures, conferences, research, publications, etc. with the involvement of all stakeholders including the ANLO Traditional Council.
Hedenyuiea Papa. With all due respect SIR
The writer is Dr. Donald Agumenu, a leadership and governance Expert and a former Special Assistant to Former President Rawlings.
Source:
www.adomonline.com
Source link