Digital Media Ecosystem Companies Excel at Culture, Embrace Diverse Teams, and Show Large Upside in Strategy Operations and IP Creation 
8W8 Global Business Builders developed in collaboration with more than 70 entrepreneurs, founders, executives, board members, investors, and academics the Compound Value Creator Quotient, aka CovQ or put simply: 'the corporate IQ of a company,' and is now releasing the CovQ Digital Media Ecosystem Companies Insights 2023. Digital Media ecosystem companies include the following categories: AdTech, MarTech, digital publishers and agencies, and related platforms.
CovQ is the world's first assessment that enables companies, their founders, CEOs and executives, board members, and investors to discover a firm's intelligence and quality with respect to creating value, compounding it, identifying the most important and mission-critical value drivers that must be prioritized and developed further. The CovQ assessment is a module of the CovQ value creation operating system encompassing a corporate IQ assessment, a framework, a method, knowledge, and software for value creation and strategy operations, and team alignment. 
Across all participating digital media companies worldwide and of all stages the CovQ Digital Media score average is: 
CovQ  63
The maximum a company can score is 100. Most companies scored between 50 and 80. The average score for Digital Media companies is 63. 
As is often the case, when the 80/20 rule is applied, the majority of companies are doing ok, plus/minus, or in other words, are kind of average, however, companies that really want to thrive, outperform the competition, and deliver the full potential of their business should come in at a CovQ score between 85 and 100.
11 % of all Digital Media companies scored 80 or higher.
17 % of all Digital Media companies scored 50 or lower
The CovQ score range is very wide > 50
We discovered that:
– Digital Media companies are embracing diverse teams to produce better results and take good care of company culture
– Digital Media companies find it rather difficult to always get the best talent on board that they really want and need
– Digital Media companies are agile and can make decisions quickly
– Digital Media companies need to improve alignment and leverage data-driven strategic decision making
– Fall short in applying cohesive strategy infrastructure tools and methods to ensure consistent communication and ongoing completion of the most mission-critical strategic initiatives 
– Find integrated marketing across all channels including social media challenging
– Digital Media companies have lower CovQ scores than their non-media tech counterparts (CovQ 63 vs. CovQ 67, CovQ Tech Insights 2022)
– Digital Media CEOs and leadership teams score high in public visibility and likeability
---
The CovQ score is broken down into five segments:
DEEP

IMPACT

CREATES

VALUE

BUILDING



The CovQ Assessment segments are Deep Impact Creates Value Building and the respective scores came in as follows: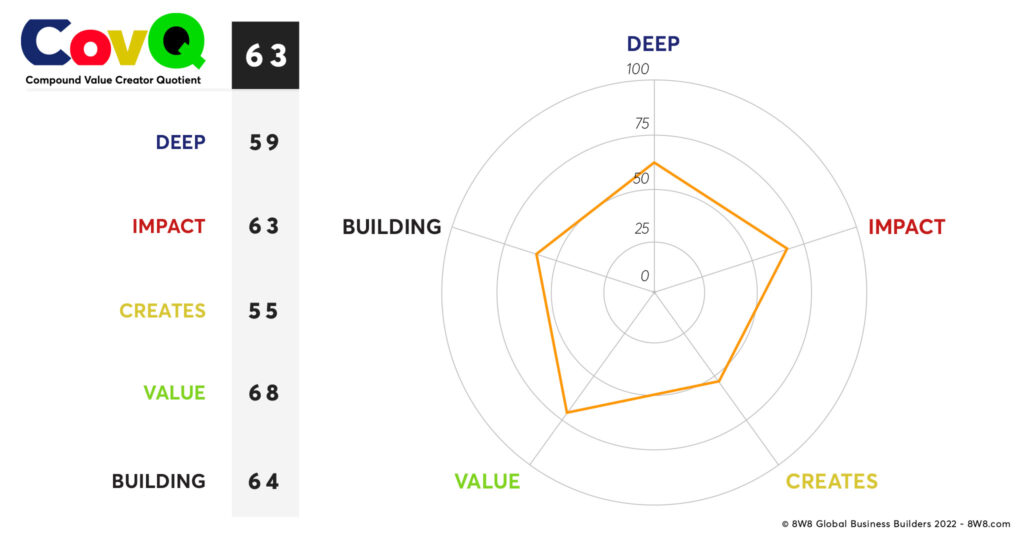 DEEP – expressing qualities around substance, sustainability, long-term, broader steering
IMPACT – expressing qualities around the right set of tactical and operational activities making a positive and strategic impact
CREATES – rallying the required teams, using tools and systems to implement and control strategy execution and reporting
VALUE – communicating and sharing information proactively, constantly, consistently to all relevant stakeholders
BUILDING – leveraging specialists, experts, peers and self-development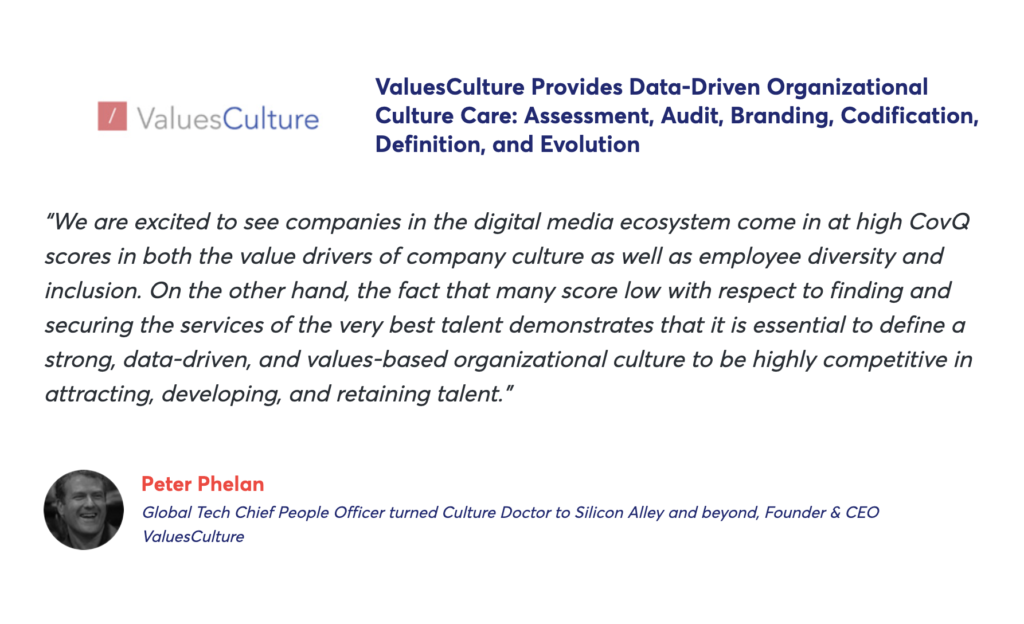 This is an example of a board, advisor, consultant and C-Level team's CovQ results: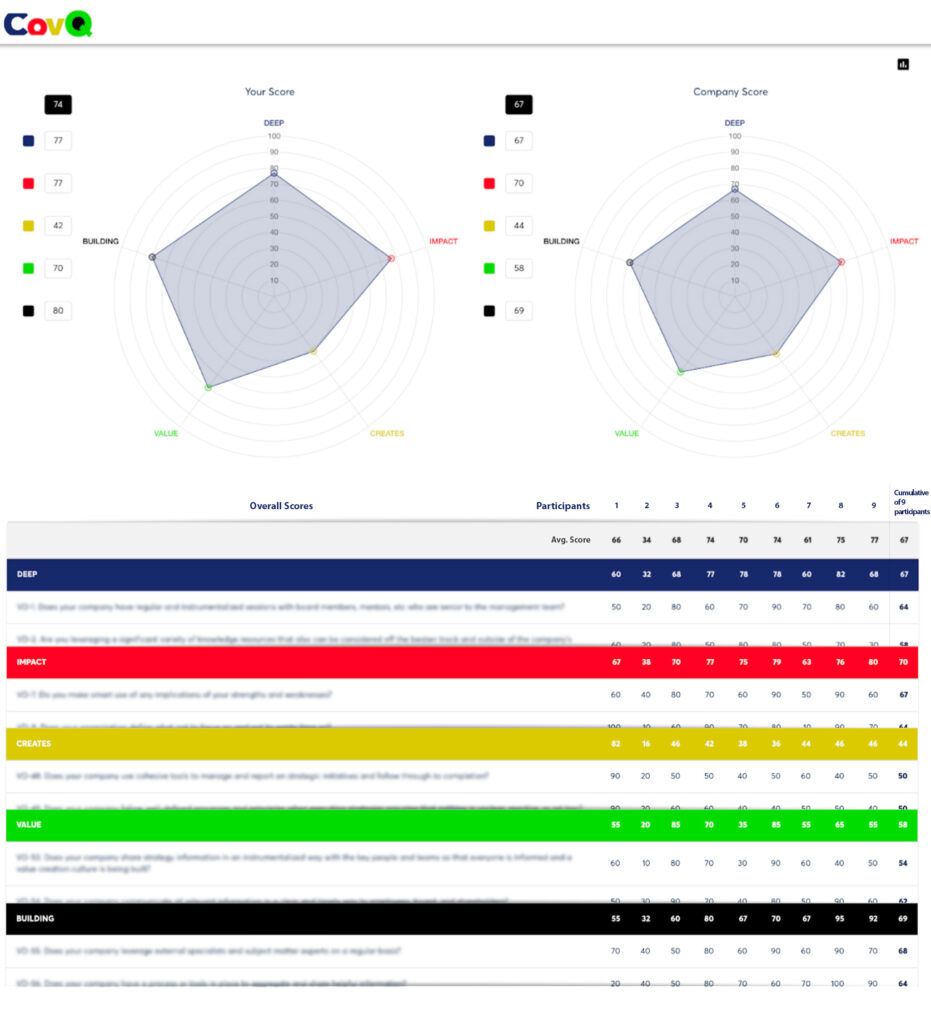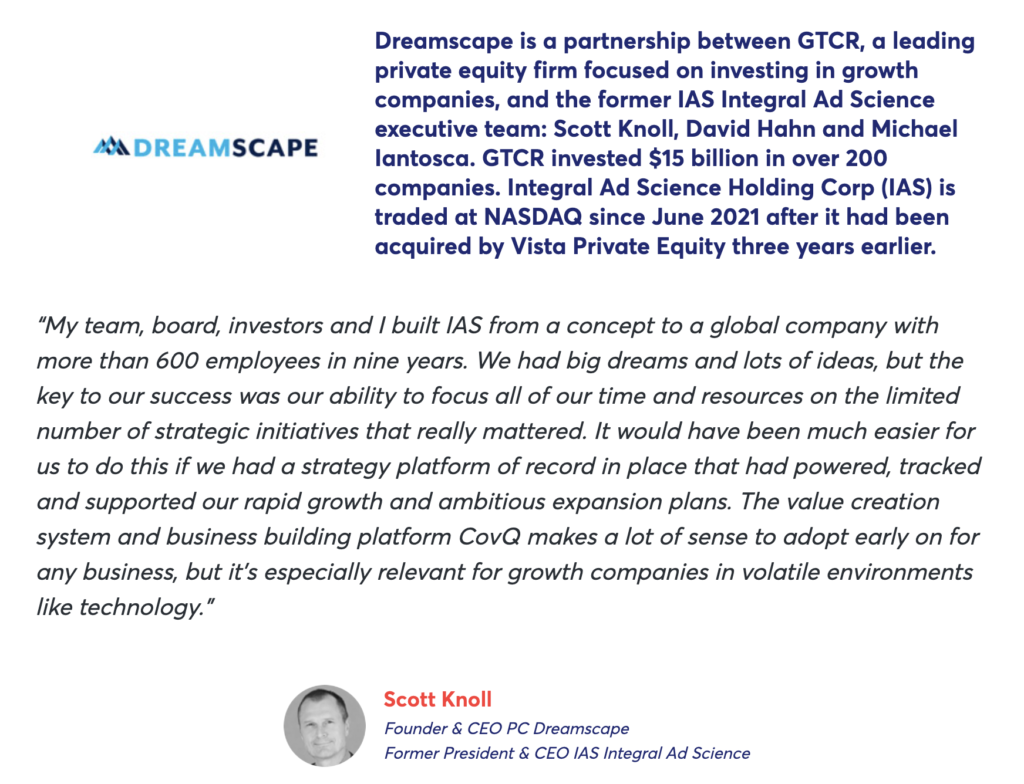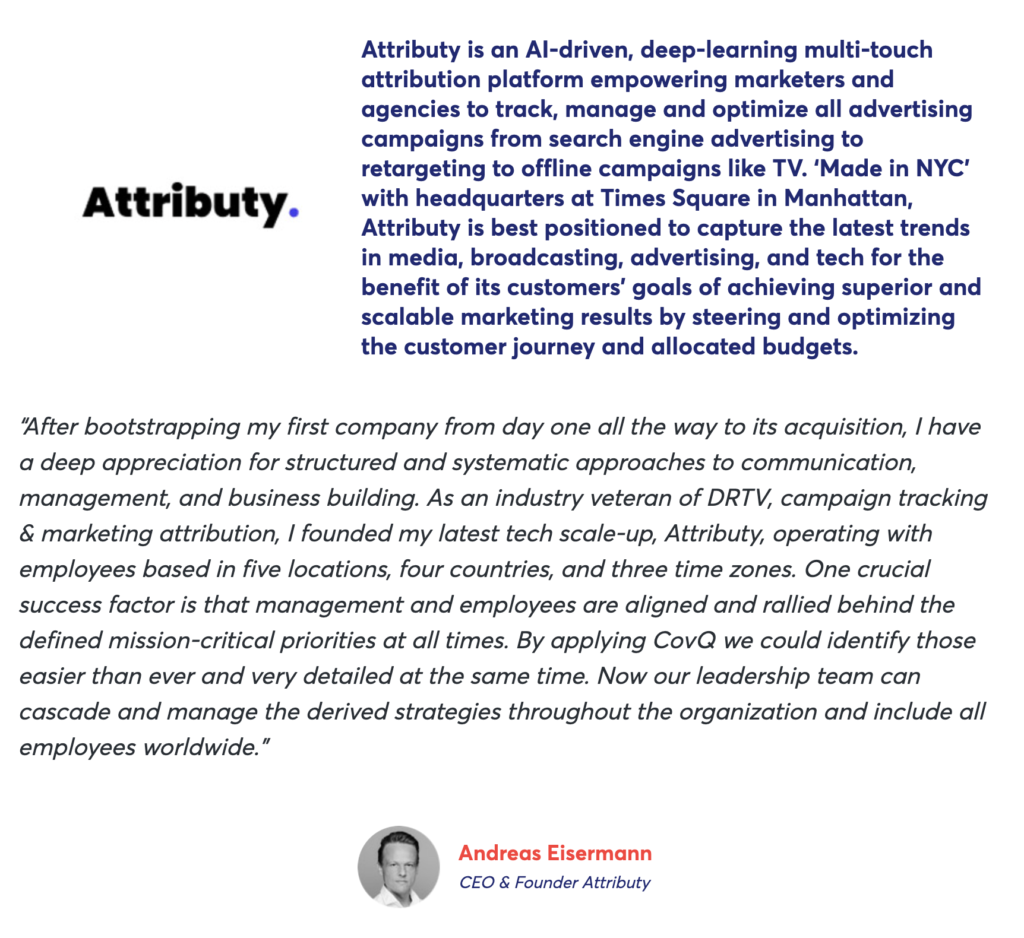 Key Takeaways
Key takeaways across the entire set of Digital Media companies participating in the CovQ assessment:
Digital Media companies do not consider their boards and advisors particularly strong 
Digital Media companies score high in company culture and diversity 
Strategic positioning and exit planning/preparation have a lot of room for improvement
The majority of Digital Media companies find it hard to differentiate and create meaningful IP
Integrated marketing/social/sales is an even bigger headache than in other verticals
Strategy operations is a weakness due to a lack of tools, systems, processes and discipline
Companies have a lot of upside by being more focused as supposed to getting sidetracked 
Scenario planning needs a wake-up call first
Most companies' management is doing a solid job with information sharing
Each company is totally unique, and the CovQ score range is very high
Within a firm various individuals judge the value driver qualities differently, sometimes very differently, hence team-based CovQ assessments deliver the most effective outcomes, a structured basis for data-driven strategic decision-making, and the development of mission-critical priorities and strategic initiatives. An outside view can enhance the holistic perspective even further. 
In any case, there are different ways of looking at the results and each company has to develop its own opinion, takeaways, priorities, and impactful action items to be created and managed, but there are some general questions to be asked:
Should a company double down on its powers aka very high CovQ scores?
Should a company fix all deficiencies aka very low CovQ scores?
Should it be a combination of both?
Which and how many strategic initiatives are getting a company to the next level? Which ones are actually mission-critical?
How do the board, CEO, and management set priorities?
How is following through on strategies ensured?
How to pull this all together and measure it on an ongoing basis? 
Is there a single source of truth?
How is executive team alignment being measured and developed?
Can this all be done with the current setup?
All things considered, the CovQ Digital Media Ecosystem Companies Insights reveals that CEOs,  management, boards, and investors alike have found taking the Compound Value Creator Quotient assessment a valuable and structured experience and use it as a window to identify value creation potentials as well as a framework to structure their mission-critical priorities and strategic initiatives moving forward. Leveraging these essential sets of information allow leadership teams to develop a business further; at the same time increasing focus and reducing risk. The Digital Media industry is very fast-moving, dependent on ecosystem owner rule changes, often uncertain, complex, and faces fierce competition from all over the world. Therefore, companies need the data, intelligence, and tools to deliver growth, momentum, transformation, and outcomes, to excite their stakeholders by successfully compounding value, and hence make the respective ecosystems a more effective and better place. 
---
Ralf Hirt, Founder & CEO of 8W8 Global Business Builders, was also interviewed by Forbes to share his views on scaling and compounding – the most powerful force of the universe. 
The CovQ assessment can be taken on 8w8.com/covq
CovQ testimonials can be found right here.
For additional information please visit www.8W8.com or contact us at value [at] 8W8.com. follow us on LinkedIn, Twitter, and IG.



Source:
www.8w8.com
Source link