Two recent Harvard Business Review titles were about strategy: 'Strategies for Turbulent Times – A new way plan for the unknown' and 'How good is your Company at Change? You can improve your ability to adapt.' Strategies have the sole purpose of delivering the company's mission so everything needs to be cascaded and implemented into the organization starting at the very top. Therefore it is essential that executive management and also boards are aligned as much as possible and are proactive because this is the basis for all internal and external communication and for defining mission-critical priorities, strategies, actions, and goals.
In order to create alignment, companies need data systems to measure the status quo to start with and in order to be empowered to eliminate misalignment and foster alignment to a maximum, ideally, 100% when strategy execution is being kicked off all the way to completion. 
Standalone surveys do not do the trick and gut feel is not professional either. In fact, in hybrid and remote work environments it is a tough task to get it right. For this reason, we introduced the CovQ Factor of Executive Alignment derived from our client's CovQ Assessment System results and experiences of conducting triple-digit CovQ Assessments worldwide. CovQ stands for the Compound Value Creator Quotient, aka the corporate IQ of a company with respect to value creation qualities, shortcomings, and potentials.
Today, we are sharing the first CovQ Insights Report determining executive team alignment, findings, and key takeaways: The CovQ Insights Report of Executive Alignment (CovQ Factor). The data is based on the value drivers based on CovQ Assessments taken by management teams and calculated based on the participants' individual CovQ Score results deviation from a company's average value driver score: CovQ Factor of Executive Alignment. 
This CovQ Insights Report reveals the average CovQ Factor of Executive Alignment across all participating companies is
CovQ  Factor of Executive Alignment  79
The maximum a company can score is 100. The CovQ Factor or Executive Alignment range was between 69 and 89.
20% of the companies participating came in at > 85. 
The CovE Factor of Executive Alignment's value driver range was between 20 and 100. 
The average CovQ Factor of Executive Alignment of 79 reflects 21 Executive Misalignment from being perfectly aligned or in other words, offers a 27 percent upside opportunity.
Company participation was across all stages and major regions (US, LATAM, EMEA, APAC). 
---
The CovQ score is broken down into five segments:
DEEP

IMPACT

CREATES

VALUE

BUILDING



The CovQ Assessment segments are Deep Impact Creates Value Building and the respective scores came in as follows: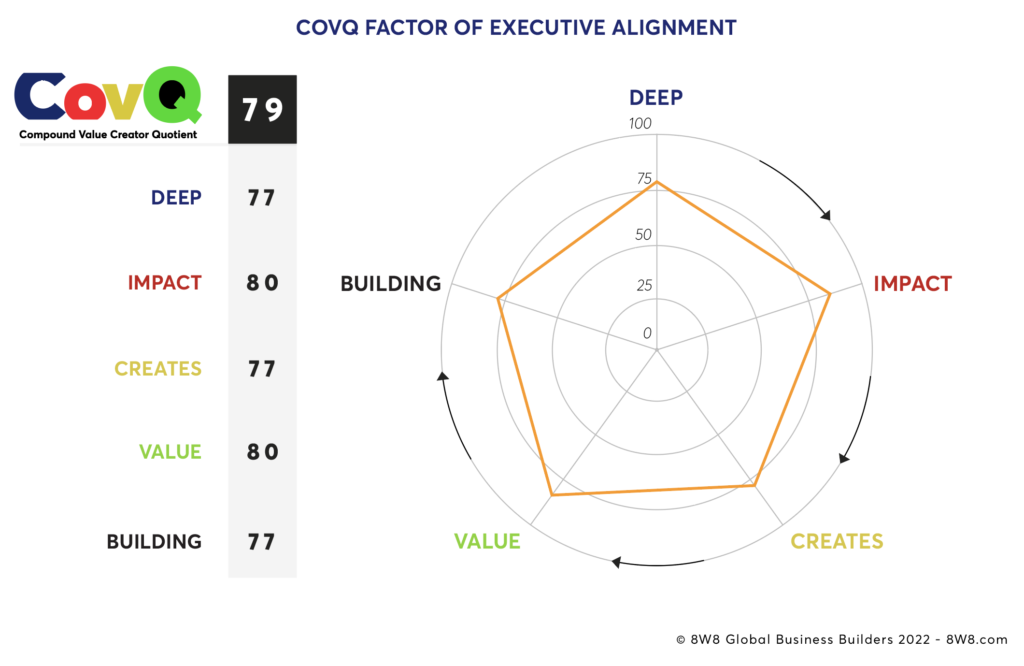 DEEP – expressing qualities around substance, sustainability, long-term, broader steering
IMPACT – expressing qualities around the right set of tactical and operational activities making a positive and strategic impact
CREATES – rallying the required teams, using tools and systems to implement and control strategy execution and reporting
VALUE – communicating and sharing information proactively, constantly, consistently to all relevant stakeholders
BUILDING – leveraging specialists, experts, peers and self-development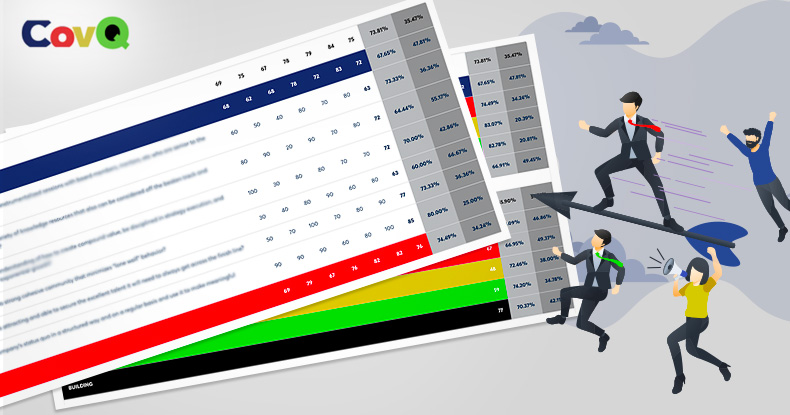 Key Takeaways
A maximum executive team alignment is necessary to ensure mission-critical priorities and strategies are being consistently communicated to ensure successful execution. 
In order to be empowered to manage and develop alignment, it is essential to measure it in the first place as many CovQ customers discovered great upside potential.
Companies need tools that allow them to have structured discussions around alignment and to steadily develop it, be proactive and evolve. 
In order to understand trends, shortcomings, and strengths executive team alignment needs to be measured at regular intervals. 
If executive alignment goes down, it is not a good sign for the company's future.
Strong executive team alignment matters because it creates the spirit and communication clarity that is cascaded throughout the organization, all employees, and stakeholders.
In hybrid and remote work environments understanding of executive team alignment has become even more challenging, so measurement as the basis for systematic management is most relevant.
A high CovQ Factor of Executive Alignment on a specific value driver fosters the urgency on addressing issues even more or enhances the case of doubling down on an opportunity. 
A low CovQ Factor or Executive Alignment on any value driver requires attention and initiating communication/facilitation.
In order to prepare for offsites, strategy, or board meetings CovQ Factor of Executive Alignment assessments have proven to be extremely helpful and create buy-in. 
Can a company have a 'corporate I.Q.'? It can if you use data to assess, identify and deploy its' attributes through mission and value focused systems. Thanks @ralfhirt and the @8w8Com team for helping @aetheriumgmfi to build theirs!https://t.co/SvSghXlMzF

— Alex Lee (@alexleesv) July 28, 2022
Which companies should manage executive alignment? 
Every ambitious and forward-thinking company should have this important data and in particular those as well as their investors in the phases below.
Scenario A – Change Urgency
In times when management needs to act immediately: underperformance, dramatic changes in the market, new regulations and laws, crises, or technology substitutions are all situations that require taking ownership and developing winning strategies quickly. In order to put those into action and get broad and deep buy-in, alignment must be a top priority and is an essential necessity. 
Scenario B – New Leadership, New Ownership
If there is a new leader, leadership team, or owner the executive alignment quickly creates visibility into the status quo of alignment, which allows immediate development of strategies to set the right focus and communicate with the goal of building and fostering alignment.
Scenario C – Smooth Sailing
Many companies are doing ok or feel that they are doing pretty much as well as they could. In this case, the executive alignment might be relatively high, however, it may deteriorate over time as there is some form of complacency, lack of focus, and alignment may suffer over time. It is important to understand this as early in the process as possible and act.
Scenario D – Strong Growth Ambition / High-Performance Businesses 
In order to deliver strong growth, win market share, outperform the competition, stay always ahead of the curve and attract the best talent and investors the management team must be completely aligned. Therefore it is absolutely necessary that alignment is understood, measured, monitored, and developed on an ongoing and proactive basis.
Scenario E – Private Equity and hands-on VCs
A key driver of the value creation process is understanding and developing executive and board alignment. Therefore, pro-active alignment management is crucial and should start as early in the process as possible (due diligence or at investment) and be continued until exit. It is an integral part of data-driven company lifecycle management and to improve performance of investments, leverage learnings and lift up the reuters of portfolios. 
---
For more information please feel free to get in touch at value [@] 8W8.com, follow us on social (Linkedin, Twitter, Instagram) and check out our comprehensive testimonials.
Source:
www.8w8.com
Source link