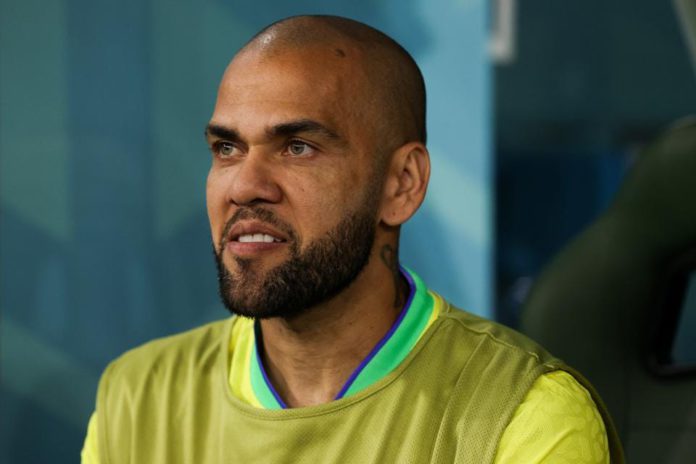 FC Barcelona legend Dani Alves has been arrested after being accused of sexual abuse in late 2022.
The Brazilian went to testify at a police station in the neighbourhood of Les Corts near Barca's Camp Nou stadium on Friday morning.
Shortly after 10AM, he was captured in a police car after being arrested for alleged sexual abuse as reported by outlets such as COPE.
Sources have explained to Europa Press that the Mossos d'Esquadra Catalan Police took the 39-year-old to the Ciutat de la Justicia in Barcelona ​​where he will be brought before a judge.
The judge will then decide if Alves is to be kept in custody or released on bail while his case is being investigated.
The case and its investigation pertain to an alleged incident that occurred in the Sutton nightclub on December 30, 2022.
Two days after, a woman filed a complaint against Alves who left FC Barcelona for the second time in his career in the summer after a successful loan spell last season.
A court in Barcelona said in an early January statement that it had opened proceedings in relation to an "alleged crime of sexual assault as a result of the complaint filed by a woman for events that allegedly occurred in a nightclub in Barcelona last month".
READ ALSO
Though Alves was not named, a court spokeswoman confirmed to Reuters that the Qatar 2022 Brazil national team squad member was the subject of the woman's complaint.
Reuters asked Alves' spokesperson for comment who said that the right back, now at PUMAS UNAM in Mexico, "vehemently" denied all allegations.
In an Antena 3 interview in the first week of January, Alves confirmed that he was at the Sutton nightclub on the evening in question but denied harming anyone.
"I was dancing and having a good time without invading anyone's space," Alves said. "I don't know who this lady is … How could I do that to a woman? No."
In Spain, a sexual abuse charge can include anything from unsolicited or unwanted sexual groping to rape. Thus far, police have refused to give specific details on Alves' case.
Source:
www.adomonline.com
Source link