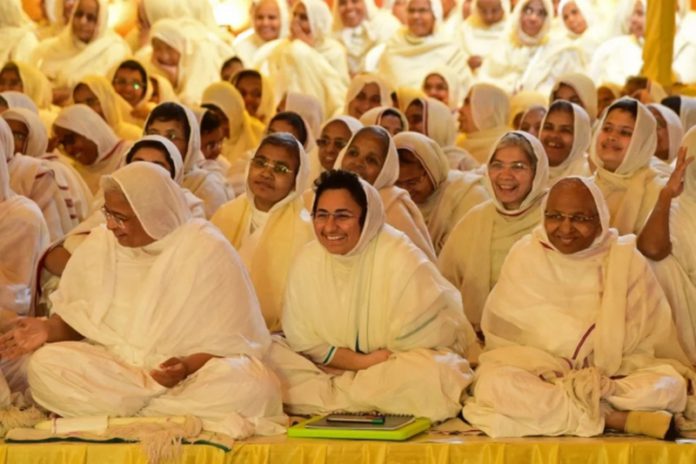 An eight-year-old diamond heiress in India gave up her fortune this week to become a nun under the Jain faith.
Devanshi Sanghvi stood to inherit Sanghvi and Sons, her family's jewelry business in the city of Surat until she officially renounced worldly comforts and took her new role under her religious order on Wednesday, Agence France-Presse first reported.
Her family business is worth around $61 million, according to ICRA, a credit agency in India.
Sanghvi was initiated into monkhood over an extravagant five-day ceremony, documented by a robust campaign on an Instagram account with 9,400 followers.
More than 100 photos on the account show the young girl, dressed in elegant clothing and jewelry, posing or participating in various rituals with her parents and sister this week.
Prior to the ceremony, the Instagram page started promoting the prospect of Sanghvi's initiation as far back as September, while also making posts extolling religious virtues and respected figures in Jainism.
"Today Devanshi has chosen to live a life on the path of spiritual development," read a post that appears to have been written by her parents. "We know it is tough, but we are aware that the Diksha life will bring far more happiness than we can ever provide."
The page's latest posts on Wednesday show Sanghvi after her transformation, smiling in white cotton garb that covers her head as she is surrounded by other nuns and Jain followers.
The Instagram page did not immediately respond to Insider's request for comment.
Her family are also members of the Jain faith, AFP reported.
Jainism is one of the world's oldest religions and originated in India at least 2,500 years ago, per the Pew Research Center. The religious minority emphasizes the importance of non-violence, meditation, and rejecting worldly pleasures and vegetarianism, with around 5 to 6 million followers in India.
Sanghvi is one of the youngest people to be inducted into Jain monkhood and relinquish worldly possessions, per AFP. Some Jain families are said to encourage their children to become nuns or monks to raise their family's social standing, the outlet reported.
Upon being initiated, nuns stop addressing their relatives as family members, will pluck out their own hair, never shower, always walk barefoot, and only eat what they receive in alms, the BBC's Priyanka Pathak previously reported.
Bipin Doshi, who teaches Jain philosophy at Mumbai University, told the BBC that once a person becomes a Jain nun "your level of spirituality, social standing, religious standing becomes so high, even the richest man will come down and bow to you."
Sanghvi and Sons did not immediately respond to Insider's request for comment.
Source:
www.adomonline.com
Source link