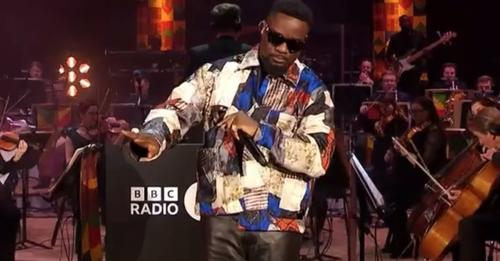 Following a conversation with Bob Marley's team, the Sarkcess Music boss disclosed that he almost passed it on.
According to the 'Landlord' hitmaker, he was hard on himself, thinking that he was not the right person for the Bob Marley collaboration, but his manager told him that it was a good opportunity.
"When we had the email, I almost passed it on, just out of respect. I felt that I was not worthy to lay my vocals next to the legend. I was really hard on myself and my manager was like this is a big opportunity but because the artiste side of me is thinking more about the art and not the opportunity so I didn't even listen to anything. I just felt I'm not the right person to lay my vocals next to the legend," he disclosed.
He however added that he looked at it from the artiste's side of him and not the opportunity but quickly had a change of mind when he listened to the original vocals of Bob Marley in the studio, a moment he calls "spiritual."
"Then, they sent the record and we opened his vocals and this is his real vocals when he recorded it and I was listening to that in the studio, I captured it on camera because it was very spiritual at that moment," he added.
He also revealed that he had to record four versions before picking the right one because he felt the message in his lyrics had to be worthy of the legend.
"I think I did like 4 verses and I had to choose the right one. Everything I say, I'm like, I'm saying next to Bob Marley, it feels like me and him in the booth. Like you can't…there are few people that get me like that when I work with them, the man that inspired me to rap, Obrafuor, he's a rapper, he's never cursed, he's never used profanity, and he was catering to the youth, I didn't know how he was able to do that. I tried it but the new generation its hard to like keep it too censored, you wanna say stuff that you feel," he concluded.
The new version of 'Stir It Up' from Bob Mailey and The Wailers featuring Sarkodie is officially out on Friday, January 20, 2023, and available on streaming platforms.
Source:
www.pulse.com.gh
Source link