A 77-year-old sick retiree, Peter Kojo Nyasepe, has vowed to stay at his bank's premises until he receives the interest on his bonds at the end of the month.
Peter, who is a bondholder says he uses the returns from his investment to buy medicines to survive and therefore the returns cannot be withheld.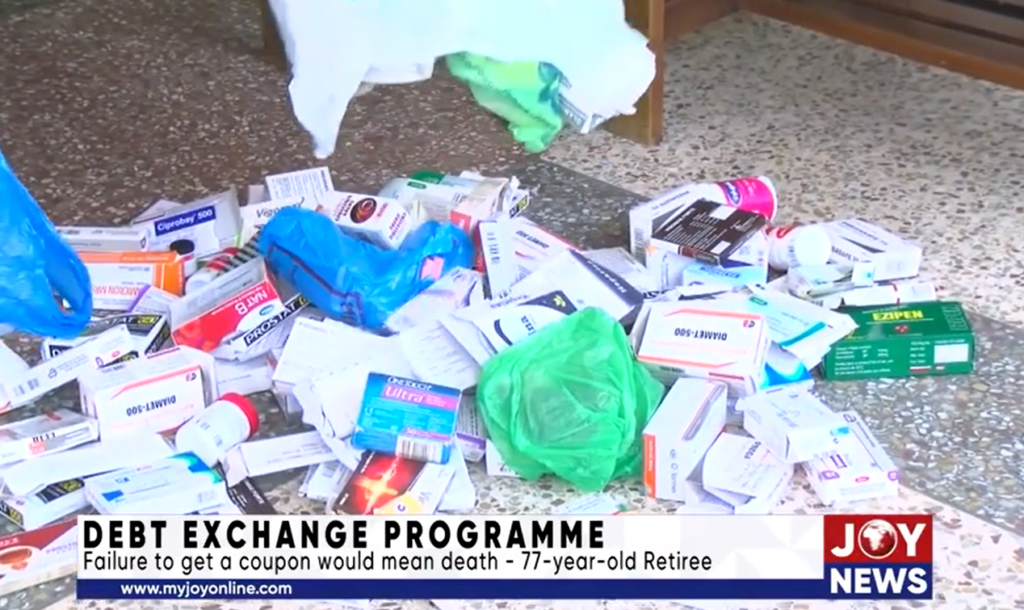 Speaking in an exclusive interview with JoyNews features editor, Joojo Cobbinah, the aggrieved septuagenarian said he opted for government bonds due to his painful ordeal with a ponzi scheme in the past.
But according to him, he is now living in anxiety due to the government's proposed Domestic Debt Exchange programme which will deny him the returns for this year.
"I gave the money to the Ghana Commercial Bank so they'll give me the money before I come. I'm going to stay there.
"If they say the money is not there, I'm going to stay there. I'm going to stay there until they carry me wherever they want to carry me because I cannot walk myself so they'll carry me.
"Wherever they want to carry me they have to carry me and go. That's the only thing I can do. I cannot fight them also", the distraught retiree said.
Mr Nyasepe's sentiments come on the back of government's proposed Domestic Debt Exchange programme.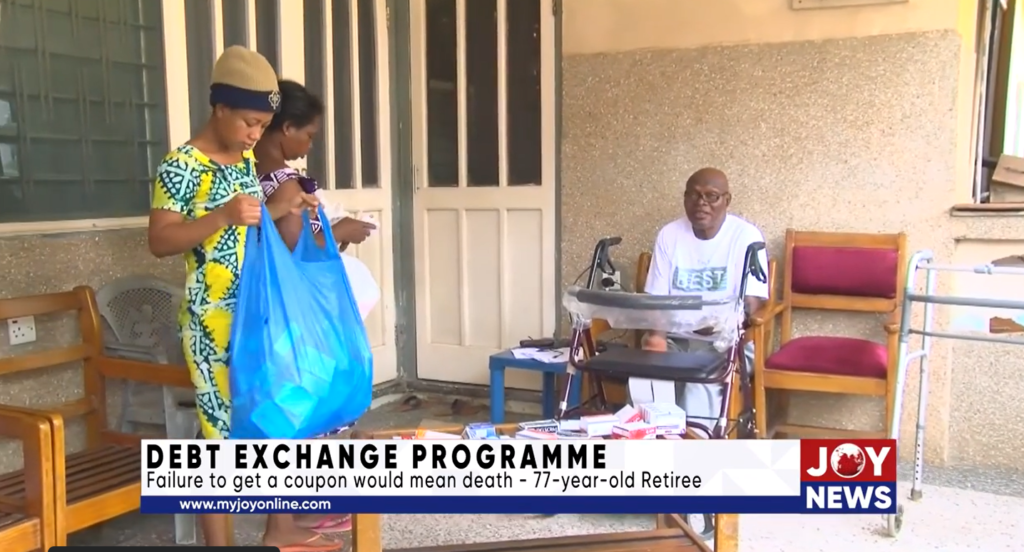 In a bid to rescue the economy and secure a deal with the International Monetary Fund (IMF), government has proposed that all bondholders will not receive any interest on their bonds for the 2023 financial year.
The payment of dividends, according to government is likely to begin next year, 2024 at a discounted rate of 5%.
In relation to this, bondholders who may want to transfer their bonds will not be able to get the full principal they initially invested as bonds.
This proposal, since its announcement, has been rejected by many bondholders who have expressed frustration about the development.
In their view, if the proposal is implemented, they will suffer a great deal of loss, with many of them stating that their investments may even become unprofitable.
Private legal practitioner, Martin Kpebu, who is an avowed critic of the policy has described the programme as a 'weapon of mass destruction'.
Speaking on Joy FM's midday bulletin on Wednesday, the maverick lawyer reiterated his resistance.
According to him, he and other concerned citizens will continue to mount pressure on government to suspend the programme which they say will worsen the lives of individual bondholders.
"We're still standing by the 'no-no-no-no'. So we're asking government to respectfully exempt individual bondholders from this exchange.
"As I've stated over and over, the programme, that's the domestic debt exchange programme is proven to a weapon of mass destruction", he stated.
Mr Kpebu continued, "It [debt exchange programme] is going to kill more citizens, it's going to destroy more businesses. It's going to destroy more schools and livelihoods and so on and so forth".
Following the public agitations, government is currently in talks with individual bondholders to reach an amicable agreement.
The government, however, insists that despite the agitations, it will not back on the programme since its a vital steps in helping salvage the ailing economy.
According to the Finance Minister, Ken Ofori-Atta, his outfit may modify some of the terms instead of an outright suspension which has been advocated by a section of the general public as well as the Minority in Parliament.
Addressing a press conference on Monday, the Minority Leader, Haruna Iddrisu, said the programme as currently structured will worsen the plight of Ghanaians, hence the need for the President to put it on hold and consult some more.
"We in the NDC, the Minority group call on President Nana Addo Dankwa Akufo-Addo to immediately suspend the ongoing debt exchange programme. It is already failing", he stressed.
DISCLAIMER: The Views, Comments, Opinions, Contributions and Statements made by Readers and Contributors on this platform do not necessarily represent the views or policy of Multimedia Group Limited.
Source:
www.myjoyonline.com
Source link