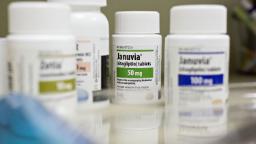 CNN
 — 

Pharmaceutical company Merck said that it is working to reduce levels of a cancer-causing organic compound that was found in some of its popular type 2 diabetes drugs.
The compound, called nitrosamines or NTTP, can come from chemical reactions that can form in drugs during the manufacturing process. Nitrosamines are also naturally found in fresh fruits and vegetables, grilled meats and fish, in water and in the air.
Merck told CNN that it has identified the root cause of the nitrosamine formation in certain batches of its products that contain sitagliptin, an active ingredient found in its Januvia, Janumet, and Steglujan drugs used to control blood sugar in patients with type 2 diabetes.
Merck said that it has submitted a detailed report of what its investigation found about the contamination to health authorities.
"The company has already instituted additional quality controls and expects to be able to consistently reduce NTTP levels to meet the long-term acceptable daily intake level this year, although the specific timeframe will be based on the progress of timing to institute process modifications and on engagement with FDA and other Health Authorities," Merck said in an emailed statement.
The US Food and Drug Administration said NTTP can increase the risk of cancer if people are exposed to them above what the agency considers "acceptable levels" over long periods of time. Patients who use drugs that have the potential contaminant should talk to their health care providers before they decide if they want to stop taking the medication because of a concern about a cancer risk, the FDA said.
The agency did not provide any detail about its process working with Merck. In an email to CNN, the FDA said it "is committed to ensuring that the medicines Americans take are safe and effective."
"When we identify drug quality lapses that pose potential risks for patients, we make every effort to understand the issues and provide our best recommendation to the public as quickly and accurately as possible. We will continue to investigate and work to ensure these types of impurities do not exceed acceptable limits so that patients can continue taking their medicines without concern," the FDA's email said.
In order to avoid a shortage of stiagliptin, the FDA in August loosened its standards for the allowable limit for the nitrosamine contaminant from 37 nanograms to 246.7 nanograms.
Scientists at the FDA determined that if a person were to take a drug with up to 246.7 ng per day it would present "minimal additional cancer risk" when compared with a lifetime of exposure to the compound at the 37 ng per day level.
I
n recent years, cancer-causing compounds have been identified in other common drugs, and the FDA has been working with international regulators to address and mitigate drug contamination issues.
In 2018, elevated levels of the cancer causing compound NDMA were found in drugs used to control high blood pressure, heart failure, heartburn, acid reflux as well as diabetes. In those cases, the FDA requested manufacturers recall those drugs due to the impurities.
In 2020, the FDA shared guidance for pharmaceutical companies to detect and prevent the introduction of this potential cancer causing chemical into their drug products.
Source:
www.cnn.com
Source link