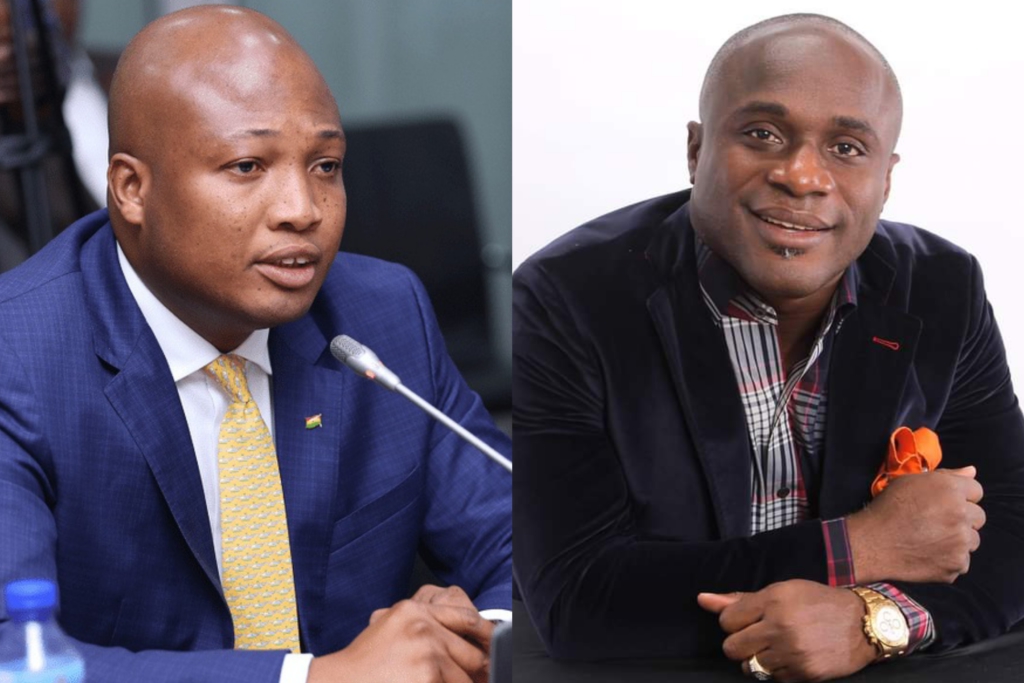 North Tongu MP, Samuel Okudzeto Ablakwa, has launched another exposé about the controversial Secretary to the Board of the National Cathedral.
In his latest revelation about the project, the NDC lawmaker alleged that Rev Victor Kusi Boateng, aka Mr. Adu Gyamfi used two different names as his biological mothers in completing forms for the Ghana Revenue Authority.
In a Facebook post on Friday, Mr Ablakwa explained that when the preacher was filing his tax returns with the Ghana Revenue Authority (GRA) in 2013, he indicated one 'Agnes Ataah', as his mother.
The MP however stated that when Rev. Kusi Boateng was filing his returns in 2016, he named another woman, 'Yaa Gyamfua', as his mother.
This, in his view, has been part of the theologian's schemes to create double personalities to facilitate his questionable business transactions.
"On the 13th of August, 2013 when he filled his Taxpayer Registration Form at the GRA under the name Victor Kusi Boateng with a date of birth of September 7, 1971; he declared that his mother's maiden last name is Ataah, and her first name is Agnes.
He was subsequently given a Taxpayer Identification Number for his Victor Kusi Boateng name as P0002502682″, Mr Ablakwa stated.
The MP continued, "Curiously, on the 24th of March, 2016 he returned to the GRA, this time with the name Kwabena Adu Gyamfi and a date of birth of December 30, 1969.
"He strangely declared a different biological mother with a maiden last name of Gyamfua and a first name of Yaa.
This is how he secured another TIN — P000627241X".
These developments in Mr. Ablakwa's view is part of a "grand well-orchestrated conspiracy as he proceeds to engage in numerous business transactions with both names".
The comments by the MP were a continuation of an earlier exposé in which he alleged that Rev. Victor Kusi Boateng had created multiple identities on the blind side of the state; an act he deems criminal.
In a Facebook post on Monday, the MP contended that Mr Kusi Boateng disguised his identity as 'Kwabena Adu Gyamfi'; a name he used in registering a company (JNS Talent Centre Limited), which received payments from the National Cathedral Secretariat.
In his view, this amounts to a conflict of interest, hence the need for the preacher to resign to pave the way for investigations into what he says is a fraudulent act.
Following this initial allegations, some individuals, including the host of Metro TV's Good Evening Ghana, Paul Adom-Otchere, have sought to question Mr Ablakwa's earlier claims of multiple identities.
This has prompted Mr Ablakwa to release the latest information about the preacher's mothers to prove to his critics that indeed Rev Victor Kusi Boateng is guilty of creating two identities to further his parochial interests.
In a related development, the Commission for Human Rights and Administrative Justice (CHRAJ) says it has taken note of Mr Ablakwa's allegations against the Secretary of the National Cathedral.
CHRAJ in a letter signed by the Director of Anti-Corruption, Stephen Azantilow, acknowledged receipt of the petition on Wednesday, January 18.
"I am directed to acknowledge receipt of your complaint on the above subject matter lodged with the Commission on the 16th of January 2023 and to inform you that it is receiving attention", portions of the statement read.
Meanwhile, Victor Kusi Boateng has denied the claims of multiple identities and has since expressed his willingness to seek redress in due time.
In a statement on Tuesday, the embattled preacher disclosed that he has taken note of the MP's allegations designed to muddy his reputation.
According to him, the claims by the legislator are inaccurate.
He however noted that since the NDC lawmaker has referred the issue to the Commission on Human Rights and Administrative Justice (CHRAJ), he will withhold any further comments.
DISCLAIMER: The Views, Comments, Opinions, Contributions and Statements made by Readers and Contributors on this platform do not necessarily represent the views or policy of Multimedia Group Limited.
Source:
www.myjoyonline.com
Source link