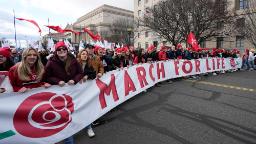 A version of this story appeared in CNN's What Matters newsletter. To get it in your inbox, sign up for free here.


CNN
 — 

Sunday marks exactly 50 years since the US Supreme Court granted American women abortion rights with the Roe v. Wade ruling – and comes about seven months after the court opened the door for much of the country to take them away with Dobbs v. Jackson Women's Health Organization.
The court instantly created new fault lines throughout the country when it handed more control of abortion rights back to states. It also may presage a new rift within the GOP.
At this moment of greatest triumph for abortion rights opponents, there are real questions about how far lawmakers and potential 2024 presidential candidates will go to prove their opposition to abortion.
One potential presidential candidate, Virginia Republican Gov. Glenn Youngkin, told Virginians to "choose life" during his State of the Commonwealth address this month. He's backing that call up by pushing toward a 15-week ban. Current state law allows for abortion care up to about 26 weeks.
It would be a genuine achievement for Youngkin in Virginia, since he shares power at the legislative level in the state with Democrats, who have vowed to scuttle his plan.
Florida Gov. Ron DeSantis signed a 15-week ban into law before the Dobbs decision last year, but given the Republican majority in his state, he's now being criticized by some conservatives for not going nearly far enough.
An aide to another potential GOP presidential candidate, Gov. Kristi Noem of South Dakota, has criticized DeSantis for not endorsing a more forceful restriction on abortion rights.
South Dakota has a near-total ban and, asked about DeSantis, Noem told CBS News this week that other Republican governors should do more.
"I would nudge every governor to do what they can to back up their pro-life record," she said.
When I asked CNN's Florida politics expert Steve Contorno how far he expects DeSantis could go to restrict abortion rights, he told me the normally bombastic DeSantis has been sidestepping specifics ever since the Dobbs decision came out.
DeSantis released a vague statement promising to "expand pro-life protections" but has otherwise used an ongoing legal case over the 15-week ban as a shield for discussing what further steps he would take.
"People on both sides of the abortion debate have told me they expect some kind of legislation will come up that pushes the limit earlier than 15 weeks that could blunt further attacks like the one from Noem, but it's not clear if DeSantis would support a full ban," Contorno told me.
A ban that goes into effect after fetal cardiac activity is detected could be an alternative, he added, pointing out that DeSantis supported that type of legislation during his first run for governor in 2018.
Contorno also pointed out that Florida's new Senate president, Kathleen Passidomo, told the Tampa Bay Times/Miami Herald she wants a 12-week abortion ban, but that she would include exceptions for rape and incest that are absent from the 15-week ban DeSantis signed into law last year.
Meanwhile, former President Donald Trump – who has announced he's running again in 2024 – wants more credit from evangelical leaders for delivering the right-wing Supreme Court that is working its way through a total reexamination of US legal precedent and individual rights.
"Nobody has ever done more for Right to Life than Donald Trump," Trump told the conservative journalist David Brody. "I put three Supreme Court justices, who all voted, and they got something that they've been fighting for 64 years, for many, many years."
He alleged "great disloyalty" among evangelical leaders not appropriately supporting him now.
CNN's Kristen Holmes, Gabby Orr and Kaitlan Collins wrote this week about Trump's frustration with anti-abortion activists for not bringing more voters to the polls last November.
On his social media platform, Trump said abortion hardliners cost the GOP votes, especially "those that firmly insisted on No Exceptions, even in the case of Rape, Incest, or Life of the Mother."
It is the definition of a Trumpian contradiction to both want credit for overturning Roe and be frustrated by the activists who wanted Roe overturned. But it also speaks to this larger issue of how Republicans should proceed on the issue.
Opponents of abortion rights want to go further and are plotting a series of new laws in GOP-controlled states.
CNN's Jessica Schneider and Devan Cole note that 22 state governments are under unified GOP control, and as state legislatures come into session for the year, they are looking to further restrict access to abortion services. Read their full report.
Republicans in Wyoming, for example, have introduced a bill that calls for a full abortion ban, including on medication abortion, without exceptions for rape or incest, and which includes criminal penalties for anyone who performs abortions. The only exception would be in cases where the life of the mother is at risk.
Nebraska Republicans introduced a ban on all abortions after embryonic cardiac activity is detected at about six weeks of gestation.
Schneider and Cole note that Democrats are pushing back. Michigan Democrats, who now control the state government, are working to repeal an abortion ban in the state that dates back to 1931 but was on ice during the Roe years and was blocked by a judge in the immediate aftermath of the Dobbs decision.
Meanwhile, in Maryland, where Democrats have complete control, voters may see an amendment on their ballot in 2024 that would add abortion rights to the state constitution.
CNN's Veronica Stracqualursi talked to anti-abortion rights groups before they gathered Friday for the annual March for Life – which first occurred in 1974, a year after Roe, and now finds activists focused on passing more restrictive laws in states and trying to rebuild anti-abortion rights momentum after their Supreme Court victory in June.
"The pro-life movement has just experienced a major victory in the fall of Roe v. Wade, but our work to build a culture of life is far from complete," Jeanne Mancini, the head of March for Life's Education and Defense Fund, told Stracqualursi. Read her full report.
That may not be the case for supporters of abortion rights, many of whom credit the end of Roe with Democrats' better-than-expected performance in the 2022 midterm election. While Republicans will be recalibrating, Democrats will try to carry that momentum built around abortion rights into the presidential election.
Source:
www.cnn.com
Source link