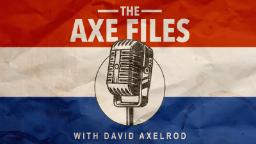 Ep. 518 — Amanda Gorman
The Axe Files with David Axelrod
When poet Amanda Gorman was 5 years old, she was already in the habit of waking up before dawn to write; her mother paid her a quarter each morning she stayed in bed past 6 a.m. Poetry became Amanda's outlet for exploring history and her own experiences. Her talents have taken her from serving as the first National Youth Poet Laureate to reciting her poem, "The Hill We Climb," at President Joe Biden's inauguration. Amanda joined David to talk about her mother's influence, working through her chi…Show moreldhood speech impediment, the importance of representation in poetry and literature, writing for the inauguration following the Jan. 6 attacks on the Capitol, poetry as the language of the people, and her presidential aspirations.
Jan 19, 2023
Ep. 517 — Gov. Chris Sununu
The Axe Files with David Axelrod
Although New Hampshire Governor Chris Sununu has said that he was a shy child, he has no problem with the spotlight now; there is widespread speculation that he will run for president in 2024. As a popular Republican governor in a purple state, some say Gov. Sununu has the right playbook for putting a Republican back in the White House, while his detractors say he doesn't stand a chance against former President Donald Trump's base. Sununu joined David to talk about the power of local government,…Show more where he believes President Joe Biden has failed, his thoughts on Trump and his 2024 chances, his stance on abortion, New Hampshire's place on the primary calendar, and when the public can expect a decision from him on a presidential run.
Jan 12, 2023
Ep. 516 — Gov. Gretchen Whitmer
The Axe Files with David Axelrod
In 2022, Democrats in Michigan made history when they took control of state government for the first time in 40 years. At the top of the ticket was Governor Gretchen Whitmer, who won reelection by nearly 11 percentage points. Governor Whitmer joined David to discuss the role reproductive rights played in her campaign, the dangers facing public servants today and the sacrifices her family has made, governing through the COVID-19 pandemic, and the priorities for her second term in office.
Jan 5, 2023
The Axe Files presents The Assignment with Audie Cornish
The Axe Files with David Axelrod
This week The Axe Files team is sharing an episode of CNN's The Assignment with Audie Cornish. Each week Audie pulls listeners out of their digital echo chambers to hear from the people who actually live the headlines. From the sex work economy to the battle over what's taught in classrooms, no topic is off the table. For this episode, Audie talks to two parent activists turned elected school board officials about what motivated them to run for office and the changes they hope to make while in power.
Dec 22, 2022
Ep. 515 — Dr. Anthony Fauci
The Axe Files with David Axelrod
After 54 years at the National Institutes of Health (NIH), Dr. Anthony Fauci will step down from his role at the end of 2022. While he has worked on a spectrum of infectious diseases, including HIV/AIDS, he rose to national prominence recently for his work on the Covid-19 pandemic. Considered at times to be a hero to the left and a villain to the right, Dr. Fauci talked to David about his career at NIH, what he sees as social media's deleterious impact on science, fighting conspiracy theories, threats against his family, the discomfort of contradicting the president of the United States, and the state of Covid-19 today.
Dec 15, 2022
Ep. 514 — Wes Moore
The Axe Files with David Axelrod
When Maryland Governor-elect Wes Moore was 3 years old, he watched his father collapse in front of him. Losing his father at a young age greatly impacted Moore's life. He acted out at school, was sent to a military academy by his mother, and later confronted what he called the inequitable policies influencing his life, including his father's inability to receive adequate medical care. Governor-elect Moore talked with David about his path to public service and gubernatorial victory, his time serving in Afghanistan and studying at Oxford, how leadership transformed his outlook on his capabilities and himself, his governing philosophy, and the future of Maryland.
Dec 8, 2022
Ep. 513 — Mike Pence
The Axe Files with David Axelrod
Former Vice President Mike Pence has centered his career around his Christian faith and conservative beliefs. Most recently, he spent four years serving alongside former President Donald Trump, who has been criticized for his brash and confrontational demeanor. While the two have different political styles, Pence remained steadfastly loyal to Trump until January 6, 2021, when Pence refused to reject the results of the 2020 election. Pence spoke to David about the role of his faith in his political career, why election denial was not a winning strategy in the 2022 midterms, public safety and the Second Amendment, his role at the Capitol on January 6, and his views on 2024.
Dec 1, 2022
Best of The Axe Files: Anderson Cooper
The Axe Files with David Axelrod
This Thanksgiving, we're revisiting a conversation with Anderson Cooper from October 2021. Anderson is now a well-known CNN anchor and host of the new podcast, All There Is with Anderson Cooper, but he got his start in journalism armed with just a camcorder and a fake press pass. Anderson is also part of the storied Vanderbilt family, which he wrote about in the book Vanderbilt: The Rise and Fall of an American Dynasty. He joined David to talk about the corrosive power of money and how its effec…Show morets can ripple through generations, his mother's life and her capacity for overcoming trauma, losing his father at 10 years old, and how he hopes his book teaches his children to feel connected to something beyond themselves.
Nov 24, 2022
Ep. 512 — Sen. Alex Padilla
The Axe Files with David Axelrod
Just months after graduating from the Massachusetts Institute of Technology with a degree in engineering, California Senator Alex Padilla was drawn to politics, outraged by a state ballot initiative regarding undocumented immigrants. He soon became the youngest Los Angeles City Council president and is now the first Latino senator from California. Sen. Padilla joined David to talk about the 2022 midterms, election deniers and voter suppression, policing and public safety, his relationship with California Governor Gavin Newsom, the diversity of the Latino community, and his dedication to immigration reform.
Nov 17, 2022
Ep. 511 — Speaker Rusty Bowers
The Axe Files with David Axelrod
Rusty Bowers, Speaker of the Arizona House of Representatives, is a Mormon and conservative Republican. He is also a sculptor and painter with a love of the outdoors who likes to sketch satirical drawings of his fellow legislators. After years in the state legislature, Speaker Bowers rose to national prominence when, as he said, he chose his oath to the Constitution over pressure from Donald Trump and his allies to overturn Arizona's results in the 2020 presidential election. Speaker Bowers join…Show moreed David to talk about his lifelong passion for art, how working with the Indigenous people of Mexico's Copper Canyon changed his life, election deniers and what happens if they win elected office, the current state of the Arizona GOP, and facing off against Trump.
Nov 10, 2022
Source:
www.cnn.com
Source link