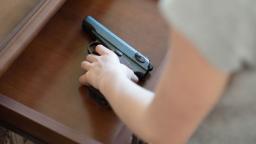 Editor's Note: Sign up for CNN's Stress, But Less newsletter. Our six-part mindfulness guide will inform and inspire you to reduce stress while learning how to harness it.


CNN
 — 

The first time Johanna Thomas talked to the families of her kids' friends about gun safety, she had to work up her nerve.
It was after a school event, and a girl had invited her daughter to drive home with her family for a playdate, said the mother of two kids from Fayetteville, Arkansas. The volunteer for the gun safety advocacy group Moms Demand Action wanted to make sure that whatever firearms the family had were not accessible to her daughter, she said — so she asked.
The girl's mother told her the family didn't have any in the home but did have one in the car that was kept under a seat, Thomas said.
It was a pivotal moment for Thomas, who's a gun owner herself. She realized her children might have more unsafe access to guns outside of her home than she thought, and she knew she would have to start making more safety plans, said Thomas, an associate professor of social work at the University of Arkansas and educator on gun violence prevention through the Be SMART program. (SMART is short for secure, model, ask, recognize and tell.)
Families across the United States were horrified to see recent reports of a 6-year-old boy in Newport News, Virginia, who is accused of bringing his family's gun to school and shooting his teacher, but the tragedy involving a child with access to guns is part of a troubling broader trend.
In a five-year period leading up to 2021, there were 2,070 unintentional shootings by children under 18 in the US, according to a report from Everytown for Gun Safety. Those shootings resulted in 765 deaths and 1,366 injuries.
And from March through December 2020, the number of unintentional shooting deaths by children rose by 31% compared with the same period in 2019, according to Everytown.
Having firearms in the home does increase the risk of an injury, but for many families, removing guns is not an option, said Dr. Lois Lee, an associate professor of pediatrics and emergency medicine at Harvard Medical School in Boston. The next best option is to make sure firearms are stored safely.
Talking about gun safety when it comes to your kids and community doesn't need to be a political issue, said Cassandra Crifasi, associate professor of health policy and management at the Johns Hopkins Bloomberg School of Public Health in Baltimore. It may feel uncomfortable, but the focus can stay on minimizing the risk of exposure.
"We can protect kids, we can reduce a lot of gun violence, just by normalizing the conversation around firearms," Thomas said.
When you do talk to other families about your child going to their home or riding in their car, you want to make sure you find out if any guns they have are stored safely — meaning they are secured in a safe and unloaded, Crifasi said.
And that is not just in the home, Thomas added.
Some people store guns in their cars. A locked glove compartment is not secure enough to consider it out of harm's way, according to Thomas.
Instead, she would hope to hear that the gun is in a car safe with a code or fingerprint lock, Thomas said.
Those safety measures are crucial because kids are curious, Crifasi said.
Too many times, Thomas has collected stories of one kid inviting over a classmate to come check out a parent's gun and one or both children are injured, she said.
And though many parents think that their child doesn't know where they keep their gun, data from the Johns Hopkins Center for Gun Violence Solutions has shown most kids know where one is kept and can get to it within five minutes, Crifasi said.
The good news is most people want to keep kids safe when guns are in the home, and most people will be up-front about their firearms and how they are stored, Thomas said.
And it can start as simply as a text.
When her daughter is going to meet with a new friend, Thomas said she likes to lay out all the safety information for that family. She mentions how many dogs they have, that there's an alarm on the pool, that guns are stored unloaded in a safe separate from ammunition, and that alcohol is kept locked up.
Then she asks if she should be aware of any other safety concerns.
"I just throw it in there," she said. And usually, the other parents respond right back to her with similar information.
And although such a conversation may feel taboo, it isn't so different than ones families are already having with one another every day, Crifasi added.
"If your kid has a peanut allergy, you're going to have zero issue saying, 'Hey, when my kid comes over, please don't give them any peanuts,' " she said.
The Be SMART campaign offers resources on how to start those conversations.
No matter how awkward the conversation, kids' safety should always be the priority, said Lee, who is also a pediatric physician in emergency medicine and researcher at Boston Children's Hospital.
"If it's in a general conversation about safety … framing it in that way hopefully will provide some context where it makes more sense to have these discussions with friends or family members."
When Thomas found out the mother of her daughter's friend had a gun stowed under the car seat, a difficult conversation began.
Thomas decided to drive her daughter over to the house and asked if the parents could make a safety plan together for the next time her daughter rode with her friend.
"I'm pretty honest about it, I say, 'In order for my child to come to your house, do you have a way you can secure those firearms that would be unloaded and locked in a safe?' "
Often, the other family will make arrangements to change the location of the firearms while her daughter is over. If not, Thomas said she will just offer to have the kids at her house or to meet somewhere else, such as a park or horseback riding barn.
And if it's just not comfortable, families should feel empowered not to send their children over, she added.
Now, it's a normal conversation for Thomas' family to have with others. And although she talks to her children about gun safety, too, Thomas said she sees it as ultimately the adults' responsibility to keep guns away from kids. That means getting used to talking about it with friends and extended family.
"If we can save just one child's life by having this conversation, then we've done our job as humans," she said.
Source:
www.cnn.com
Source link