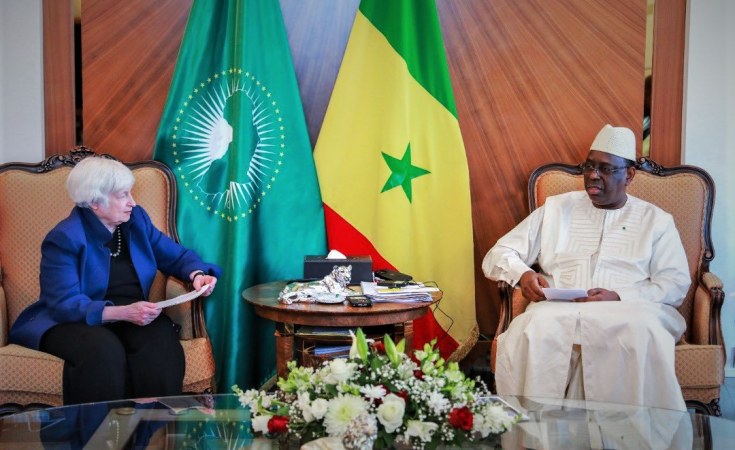 Yellen's trip was part of the Biden administration's efforts to strengthen economic ties between the U.S. and Africa. Yellen's visit was focused on economic development and investment, with a particular emphasis on spurring job creation.
During the first day of her 3-day trip, she discussed a variety of economic issues, such as the need to increase access to financial services, reduce poverty, and spur economic growth. She also announced a number of initiatives that will help support economic development and job creation on the continent.
Yellen's visit to Africa is an encouraging sign that the Biden administration is committed to strengthening economic ties with the continent, and some of her statements during her trip so far have been indicative of this fact.
Below are some of the most interesting takeaways from her visit to Africa.
Impact of slavery: Some of the traumas of the slavery era still ripples across Africa over 400 years after, and Yellen decided to touch on the subject. During her visit to Senegal, she decided to take a trip to the House of Slaves, a fort built in the late 18th century on Goree Island off the coast of the country as a transit point for slaves. After her visit to the UNESCO heritage site, Goree's mayor Augustin Senghor presented Yellen with a certificate appointing her as a lifetime ambassador of the island's history.
"I take from this place the importance of redoubling our commitment to fight for our shared principles and the values of freedom and human rights wherever they are threatened – in Africa, in the United States and around the world," Yellen said.
Rural Electrification: One of the subjects the U.S Treasury Secretary spoke about during her trip to Senegal was the power issues that have plagued the rural region in Senegal, despite the country having the highest rates of electrification across Sub-Saharan Africa between 70% and 80% On that note, she committed to launching a new rural electrification project in Senegal that will bring reliable power to 350,000 people, while supporting some 500 jobs in 14 U.S. states.
"Our goal is to further deepen our economic relationship and to invest in expanding energy access in a way that uses renewable resources spread across the continent," she said.
Russia's oil price cap: On the subject of Russia's price cap on its crude oil and refined products initiated to stabilize global energy prices and limit Russia's revenues, Janet Yellen revealed that Africa is a major benefactor of this policy. She disclosed that this price cap placed on Russia's oil could save the 17 largest net oil-importing African countries $6 billion annually.
"While the policy is in the early stages of implementation, Treasury estimates that it has the potential to result in around $6 billion in annual savings for the 17 largest net oil importing African countries." she said.
Good governance in Africa: Yellen also highlighted the importance of fighting corruption and promoting good governance in African countries, noting that Africans are now demanding more accountability and transparency from its governments, which she also noted, is the first step to building a sustainable economy.
"Adherence to high standards like transparency, good governance, accountability, and environmental sustainability," she said.
China's rising debt in Africa: This is one of the major reasons the U.S has been trying to resuscitate its relationship with Africa. Yellen, herself, has been very vocal about the surmounting Chinese debts in Africa. She was also critical about China's commitment on the debt treatments for Zambia and other countries. However, she noted that she had addressed the issue during her meeting with Chinese Vice Premier Liu He in Zurich, and China's response was, in her words, constructive.
"They indicated that they stand ready to work with us to try to see if we can make progress on the debt situation, which we both agree is a real problem," she said.
Source:
www.pulse.com.gh
Source link