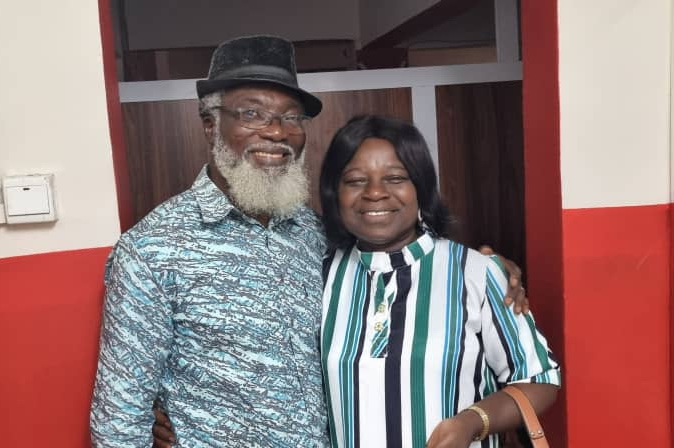 The onset of her menses signalled failure, and for all the months in six years, it flowed. Husband and wife were frustrated, but for husband, it was also grounds to be angry too.
 Their marriage was without the blessing of a child when they decided it was time to bring in the children. And while he said he knew why he was angry, he said it was not directed at anyone in particular.
Wife thinks she was the target of the anger. He was angry at me, that I had my period again and again in spite of all we did to have a child. I cried a lot, but luckily, we never gave up and we stuck together until six years, the children started coming.
They have had four since those frustrating beginning, and the marriage has lasted nearly four decades (a month shy of 39 actually), and they both agree they have "a long way to go."
Yes, 39 and still counting, that is the story of Rev. Isaac and Mrs Naomi Asante-Agyei on Home Affairs on Joy FM on Saturday, January 21, 2023.
But being married for nearly 39 years, how does it feel like?
Rev. Isaac Asante-Agyei: …It's been a long journey but it's one day at a time. So we've come a long way but we still believe there is a long way to go, but one day at a time.
Mummy how about you, inquired show host Edem Night-Tay:
Mrs Naomi Asante-Agyei: I'll also say a day at a time like he said. Ehmmm, we've come a long way and we still have a long way to go.
Man proposes but God…
Rev. Isaac and Mrs Naomi Asante-Agyei right after marriage decided not to have any children for the first two years just so they could bond better since they did not court for long before settling into marriage, and to enjoy themselves while getting to know each other better.
Trouble started after the two years.
"It was in the third year that we actually decided that OK, now is the time to get a child. So we began the search, because the first two years we were actually preventing conception, so when we stopped the prevention, we had thought that by stopping we would just get a child. Then it was year three, year four, year five, in fact it was in the sixth year before we actually got a child, and there were a lot of issues…", recalls Rev. Asante-Agyei.
https://web.facebook.com/watch/?v=1679821329082609
At what point in time did you both become alarmed?
"It was actually, I think around year four, because year three was OK now we are trying so it wasn't strenuous but I think it was in the fourth year that we realised ei, what's happening? We thought when we don't want children or we stopped them, when we want them we should get them. So then we began to look for interventions … I think we went to the hospital in the fourth year…we had tests…initially it was Naomi who was going, she went for a while before the doctor invited me. Then when I went for the check he said I needed to boost up my sperm production and he gave me medications which I took and then the first pregnancy came, but then she had a miscarriage and then she got pregnant again but she stumbled and even fell in the street but thank God, it was intact and later she gave birth."
Rev. Isaac Asante-Agyei recalls the dosage of the medication he was put on. "I was to take one three-times daily for nine months without break, so I was not supposed to miss even one, and I remember this friend, Mr. Asomaning and his wife, they were into pharmacy, they said 'we'll pay half the cost for you', because it was very expensive and we got them, and it was in the course of taking the medication, I don't remember how soon but when she got pregnant, the doctor said continue, take the full course, and so I didn't break it, I took the full course…"
And this was nothing you anticipated, right?
"Who anticipates such things?" retorts Rev. Asante Agyei, to which Mrs Asante-Agyei adds that it never came up, just as any couple in marriage anticipates that in the first or within two years, one must get pregnant "by all means".
"So that was our expectation, it never came up that two three four five years, before…"
But those frustrating years did not just pass for the couple, a lot happened, including days of cold wars, jeering and sneering by in-laws, and a lot of weeping.
Says Mrs Asante-Agyei: "You know when the month is ending and I know it's getting to my period time, then the questions, what if it doesn't stay. So Edem, let me tell you, I've wept a lot in the past. So when it comes that I've had my period then it's like a cold war between the two of us. Because here is a young man coming from a typical Akan home, getting married, wedded and for the past two, three years nothing is coming, and we were staying in a family house, in a family house, Asokwa in Kumasi, … and your in-laws would see you going and coming, nothing to show for it, and I remember a sister in-law would just take a stool and sit in front of (the room) and would be holding her baby, cuddling him as though he is just playing with the baby but it was a message to me. And I would just get inside, then she would go behind the window and would be doing the same thing so I would have to get out of the house."
According to Rev. Isaac Asante-Agyei, his upsets, anger, frustrations were in the third year, when after doing all he thought he needed to do, his wife's menses still flowed.
Edem Night-Tay: But at that time you two knew that it wasn't your (wife's) fault, right? At the time Reverend you were on medication…?
Rev. Isaac Asante-Agyei: You see Edem, those days are not like today, (exactly, so if you're not getting pregnant it was the woman's fault), I mean it was normal, if you're not getting pregnant and so what, it's your business. Those days were not like these days, now when we are counselling we tell people, prepare, in case there is no childbirth, in our time there wasn't anything like that.
Edem Night-Tay: So why were you getting upset knowing that you were on medication?
Rev. Isaac Asante-Agyei: That was prior to my going to the hospital. The anger actually was in the third year, when I thought that well I've worked hard enough, we've done all what we have to do as men and so things must happen and then you realise she's had her menses. So upsetting, so annoying and I got angry.
Edem Night-Tay: Were you angry at her or you were angry with the situation?
Rev. Isaac Asante-Agyei: You see, Edem, you're asking me questions about 39 years ago, I really can't tell whether I was angry at her, angry with myself or angry with God or angry with the situation, but the point is I was angry…"
Edem Night-Tay: Do you remember what things you did in your anger?
Rev. Isaac Asante-Agyei: Oh, I think when I'm angry at least I would eat my food, that one I would eat, but I wouldn't talk to her, then when we went to bed, I would sleep at the tip of the bed, then she would sleep at the edge of the other side and leave the middle for the devil to play football, and that's what they do…
While Mrs Asante-Agyei insisted she was the object of her husband's anger, she wants all men to remember that the wife in such a situation is also going through pains of her own and adding the cold treatment only worsens her plight.
In those instances when her husband would not talk to her (sometimes for three or four days), she also kept to herself and wept a lot.
Rev. Isaac Asante-Agyei: It continued until one morning the Lord asked me a question: Why are you angry with your wife? I said well, we've tried so much, we felt things would happen, and He said but between you and your wife, who is more disappointed? I said I am, He said no, she got to know it didn't work, she missed her period before you got to know, so she is already disappointed before even you got to know, so you must comfort her, and not be angry with her. And that was the turning point. …. Then I decided I was going to support her, I gave her that confirmation that look, henceforth I'm going to stand with you and do whatever I can till we get a baby. I remember she told me later that, that statement I made to her was like the whole world taken off her head… And from that time, I wasn't angry when she had her menses, I would rather comfort her and say don't worry, it would come again.
Lessons?
According to Rev. Isaac Asante-Agyei, couples must by all means dream and have their plans laid out, but they must make room for disappointments "because we never get all that we ask for and we never get all that we expect. So you know you're looking for children, if they don't come, don't be disappointed but trust the Lord, because God is faithful."
 Mrs Asante-Agyei: I'll tell them, the two of you hold your hands, get united and face whatever comes your way, because if you are divided, you can never fight on and make progress.  
DISCLAIMER: The Views, Comments, Opinions, Contributions and Statements made by Readers and Contributors on this platform do not necessarily represent the views or policy of Multimedia Group Limited.
Source:
www.myjoyonline.com
Source link