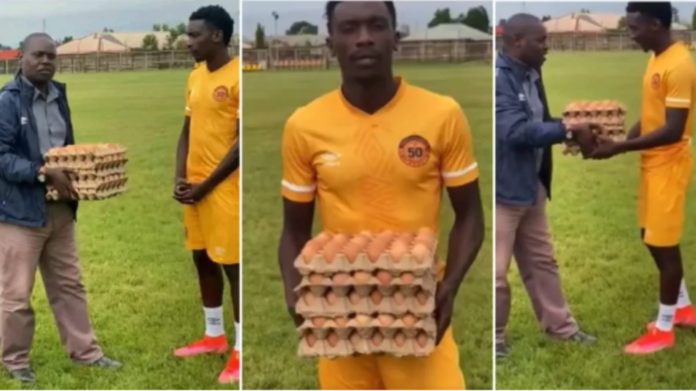 Football is one of the most followed sports on the planet and billions of people watch it.
Football's fan following knows no bounds and players like Cristiano Ronaldo, Lionel Messi, Kylian Mbappe, Neymar Jr. and many others are famous even in countries where football isn't followed much.
Since football is a global sport, there is huge money involved in it. The winner of the 2022 FIFA World Cup, Argentina, went home with a cheque of US$42 million (Rs 344 crore approx) while runners-up France pocketed an amount of US$30 million (Rs 245 crore approx).
But not every league is able to pay a handsome sum of money to the players. Recently, football player Kennedy Musonda was awarded five crates of eggs for his Player of the Match performance in the Zambian league. Playing for Power Dynamos, Kennedy scored one goal against Nkana.
READ ALSO
The official who bestowed Kennedy with the award said that the player received two crates for the goal he scored while the other three crates were for his heroics. "Congratulations, enjoy your eggs," the official said during his speech.
Kennedy's teammates were in splits as he was given five crates of eggs. The Player of the Match also delivered his speech after his heroics in the fixture. This wasn't the first time when a player was given a "strange award" for his heroics.
Last month, a bodybuilder in Bangladesh was given a blender for finishing second in the competition. Frustrated with the final result, he kicked the blender and got banned for life for his actions.
Kennedy kept his calm and delivered a polite speech after being bestowed with the Player of the Match award.
Source:
www.adomonline.com
Source link