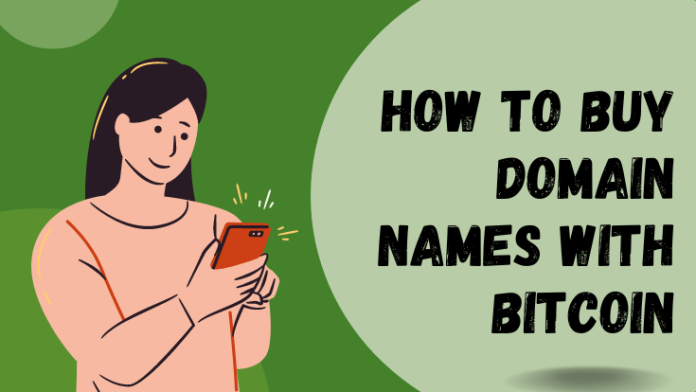 Purchasing a domain name with Bitcoin (or most other crypto-currencies) is a simple and secure process. I will cover the steps you need to take to buy a domain name using cryptocurrency. While this write-up focuses on Bitcoin, the same process broadly applies to any other cryptocurrency.
Wallet
First, you will need to have a Bitcoin wallet. This is where you will store your Bitcoin and make transactions. Many different types of wallets are available, such as software wallets, hardware wallets, and paper wallets. Make sure to research and choose a wallet that suits your needs.
Once your wallet is set up, you must acquire some Bitcoin. You can buy Bitcoin from various sources, such as exchanges, peer-to-peer marketplaces, and ATMs. Be sure to read reviews and compare prices before making a purchase.
Domain Registrar
Next, you will need to find a domain registrar that accepts Bitcoin. There are a few registrars that do accept Bitcoin, such as Web4Africa. Once you find a registrar that accepts Bitcoin, you can proceed to the checkout and select Bitcoin as your payment method.
Once you have selected Bitcoin as your payment method, the registrar will typically direct you to a payment gateway that will provide you with a Bitcoin address to send your payment. Next, you will need to open your Bitcoin wallet and send the amount of Bitcoin required for the domain purchase to the provided address. The registrar will confirm the payment and register the domain in your name.
Payment
Buying a domain name with Bitcoin can take a little longer than buying with traditional methods like credit cards or bank transfers. This is because Bitcoin transactions need to be confirmed by the network, which can take anywhere from a few minutes to a few hours. Newer techs like Lightning Network payment processing for merchants shorten the processing time.
Once the payment is confirmed and the domain is registered, you will receive an email confirmation and will be able to access your new domain name.
One thing to remember when buying a domain name with Bitcoin is the price volatility of the cryptocurrency. Bitcoin prices can fluctuate significantly in a short amount of time. So remember that the price you pay today may be different than what you would have paid a week ago or a month from now.
It's also worth noting that additional fees may be associated with buying a domain name with Bitcoin, such as conversion fees or network fees. Be sure to read the terms and conditions of the registrar you choose to ensure you understand all the costs involved.
In conclusion, buying a domain name with Bitcoin (and most other cryptocurrencies) is a simple and secure process. With some research and preparation, you can have your domain name registered quickly. Keep in mind Bitcoin's price volatility and any additional fees, and you'll be on your way to creating your own corner of the internet.
About Web4Africa
Established in 2002, Web4Africa is an ICANN Accredited Domain Name Registrar that offers over 200 domain name extensions to clients worldwide. Web4Africa also offers a wide range of hosting solutions including Shared Web Hosting, WordPress Hosting, Virtual Server Hosting, and Dedicated Server Hosting from 5 data centres across Africa.
About Bitcoin
Bitcoin is a decentralized digital currency that can be sent electronically from one user to another. Transactions are recorded on a public ledger called the blockchain, which helps to prevent fraud and double-spending. To use Bitcoin to buy services online, one must first acquire some Bitcoins by buying them from a cryptocurrency exchange or accepting them as payment for goods or services. Once you have some Bitcoins, you can then use them to make purchases online at merchants that accept Bitcoin as a form of payment. This process involves sending the Bitcoins to the merchant's Bitcoin address, and the merchant will then provide the service to you.
Source:
tech.africa
Source link