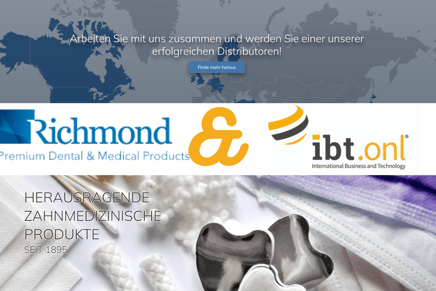 Richmond Dental and Medical have been in business for over 125 years. They continue to refine and pivot their exporting strategy in order to stay competitive, stand out in the market and bring their "Made in the USA" products to the world. Read how Richmond Dental and Medical leveraged the North Carolina Online Global Programs and worked with IBT Online to boost their brand in Europe and the Middle East to offer a more personalized, online experience to their overseas prospects.
Now, Richmond Dental and Medical have two fully localized websites for the German and Middle East markets, optimized for their foreign prospects, and are already gaining brand recognition as leaders in dentistry in these regions. Get in touch if you would like to kick-off your journey in boosting your brand and exports in overseas markets!
Watch this video of Fran Eskew, Sales Manager for Richmond Dental and Medical, discussing the ongoing brand and business growth thanks to the localized websites, all delivered by IBT Online. As Fran Eskew says: "I highly recommend manufacturers tap into this program and work with IBT Online to expand their brand awareness worldwide." 
The Power of an Overseas Digital Footprint for US Manufacturers  
Richmond Dental and Medical has been in business since 1895. They are a proud US manufacturer of dental and medical equipment based in Charlotte, North Carolina. Over their 125-plus years in business, they have developed strong international ties with distributors worldwide. However, they realized they needed to adapt their exporting strategy in order to communicate more effectively and transparently with their prospects as well as empower their distributors in their overseas target markets.
Fran Eskew shares that the company's goal was to "Promote our quality 'Made in the USA' products to other areas throughout Europe and the Middle East." They partnered with IBT Online to launch two new optimally localized business development websites: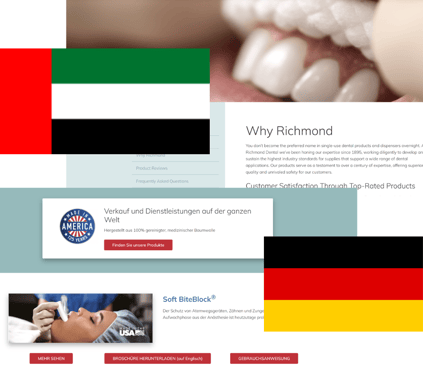 Germany:

https://richmonddental.de/

United Arab Emirates:

https://richmonddental.ae/
Without a physical foothold in either Europe or the Middle East, these two new websites affirm Richmond Dental and Medical's brand presence in these regions and cement their commitment to the markets. Now they can market more effectively and connect directly with end users. 
The Richmond Dental and Medical team knows that your website is your company's face and personality overseas, and to connect with foreign prospects your content must be culturally relevant, relatable, and accessible to the local buyer. In fact, according to the Harvard Business Review:  
1% of consumers spend most or all of their time on websites in their own language.

4% of consumers said they would be more likely to buy a product with information in their own language.
These two new localized websites offer Richmond's Dental and Medical's distributors and customers in these markets a much more personalized and adapted online experience. As Eskew says: "The language barrier is bridged through the localized websites and we made strides increasing our footprint in Europe and the Middle East". For example, the website designed for their customers in Germany is translated into German and uses related graphics and keywords words that are tailored to the local customers' online searches.
Based on research and users' behavior in their target segment, we decided to localize the UAE website, translating it into the local version of English that the Middle East consumer is familiar with. This makes the website more relatable to local customers, making Richmond Dental and Medial easier to find online, understood, and easy to do business with.  
The Power of Overseas Digital Marketing for US Manufacturers 
Once Richmond Dental and Medical had established their digital footprint in Europe and the Middle East they decided to continue leveraging IBT Online's expertise and knowledge of international markets through online marketing campaigns, specifically for the Northern America region as well as the United Arab Emirates. The localized websites provide the perfect springboard from which to launch your marketing campaigns in foreign regions and ensure that Richmond Dental and Medical's brand presence is consistently growing and working for them 24/7, every day of the year in multiple global markets.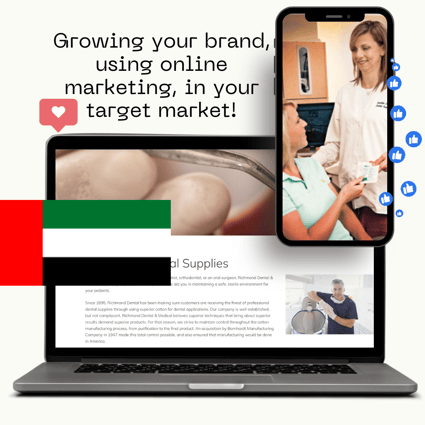 Richmond Dental and Medical opted for the complete International Online Marketing Program which puts generating high-quality leads in target markets as its first objective. The complete package means that Richmond Dental and Medical are leveraging search engine marketing, and social media marketing as well as benefitting from IBT Online's robust analytics and reporting tools and dashboards. 
Through these targeted marketing campaigns Richmond Dental and Medical now offer its North American as well as UAE prospects a much more personalized and tailored experience of its brand. Thanks to this strategy Richmond Dental and Medical are now consistently putting the customer's preferences at the center of their marketing strategy and offering greater accessibility to their brand by leveraging Facebook, LinkedIn, Twitter, and Instagram, as Eskew states: "The IBT Online team are experts in Google Analytics, SEO, and marketing through different social media platforms." 
For Richmond Dental and Medical transitioning from website building to online marketing campaigns ensures a long-term partnership with IBT Online and the opportunity to continue learning from this experience, as Eskew states; "They have been very professional and we've learned a lot from this collaboration between IBT Online and Richmond Dental and Medical. Because of the successes with this collaboration, as a company, we've decided to utilize IBT Online for another business and we plan to consider them for our other divisions". 
The Value of Diversifying Your Business Strategy 
U.S. manufacturers who create multiple digital footprints in foreign markets and offer a personalized online experience tailored to their international prospects are ensuring a more competitive and sustainable exporting model than those who do not. Exports are proven to "bolster business during domestic downturns" (Wise). Richmond Dental and Medical is a testament to that – they decided to boost their international sales by investing in their export strategy – getting a localized website and launching international marketing campaigns. This means they were able to remain resilient and withstand economic downturns within their domestic market.
Younger manufacturing firms have experienced the benefit of exporting as well. Thanks to their recently launched localized website and targeted digital marketing campaigns in Mexico, Advanced Superabrasives International (ASI) experienced rapid growth and increased international sales in Mexico at the height of the COVID19 pandemic. This allowed ASI to benefit from multiple revenue streams and remain resilient in times of economic stress and instability, as ASI President admits; "We did more business in Mexico in 2021 than in the past 15 combined".  As a result, ASI's business grew throughout the economic downturn and they didn't have to lay off a single employee during the pandemic.
According to the International Trade Association, exports account for 20% of annual earnings for 60% of small businesses and 44% of medium-sized businesses. If your company is not exporting you are missing out on 20% sales growth!
Another benefit of exporting is the availability of resources and support available to U.S. businesses. Richmond Dental and Medical received grants from the Economic Development Partnership of North Carolina. Like many states, North Carolina is supported by the U.S. Small Business Administration, and as such benefits from grants/funding to assist businesses with export development. There are fantastic opportunities and resources that local businesses can tap into if they are seeking to boost international sales. As Eskew says: "I highly recommend manufacturers tap into this grant and work with IBT Online to expand their brand awareness worldwide." Don't hesitate to get in touch and learn more about how your business can benefit from these opportunities. 
Source:
info.ibt.onl
Source link