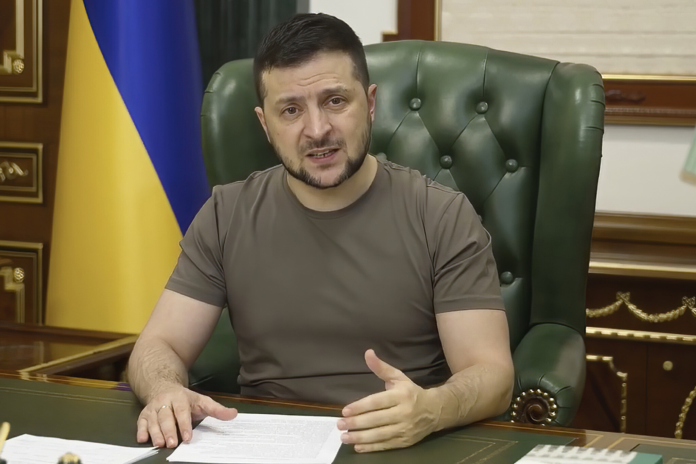 An adviser to President Volodymyr Zelensky has said that the West's "indecision" over sending extra weapons to Ukraine is "killing more of our people".
"Every day of delay is the death of Ukrainians," Mykhailo Podolyak wrote on Twitter.
His remarks come after Ukraine's defence minister said he had a "frank discussion" with his German counterpart about German Leopard 2 tanks, which Kyiv is urgently requesting to confront Russian armour.
Germany has insisted that it is not blocking the delivery of German-made Leopard tanks, which other countries want to send.
"We had a frank discussion on Leopards 2. To be continued," Oleksii Reznikov said after meeting Western allies on Friday.
The meeting at Ramstein Air Base in Germany brought an agreement to supply more armoured vehicles, air defence systems and ammunition.
On Saturday, an adviser to Mr Reznikov told the BBC that Nato countries committed to helping Ukraine need to be several steps ahead of the enemy.
Yuriy Sak said that the West needed to redefine what it meant to stand with Ukraine – and that it did not simply mean stabilising Ukraine's front line.
Ukrainian President Volodymyr Zelensky praised the Nato partners for their military assistance, but said "we will still have to fight for the supply of modern tanks".
"Every day we make it more obvious that there is no alternative, that a decision about tanks must be made."
Ukraine's current tanks are mostly old Soviet models, often outnumbered and outgunned by Russian firepower.
More than 2,000 Leopards are sitting in warehouses all over Europe. President Zelensky believes about 300 of them could help to defeat Russia.
Mr Pistorius said Berlin was prepared to move quickly if there was consensus among allies, though he could not say when a decision on the tanks might be made.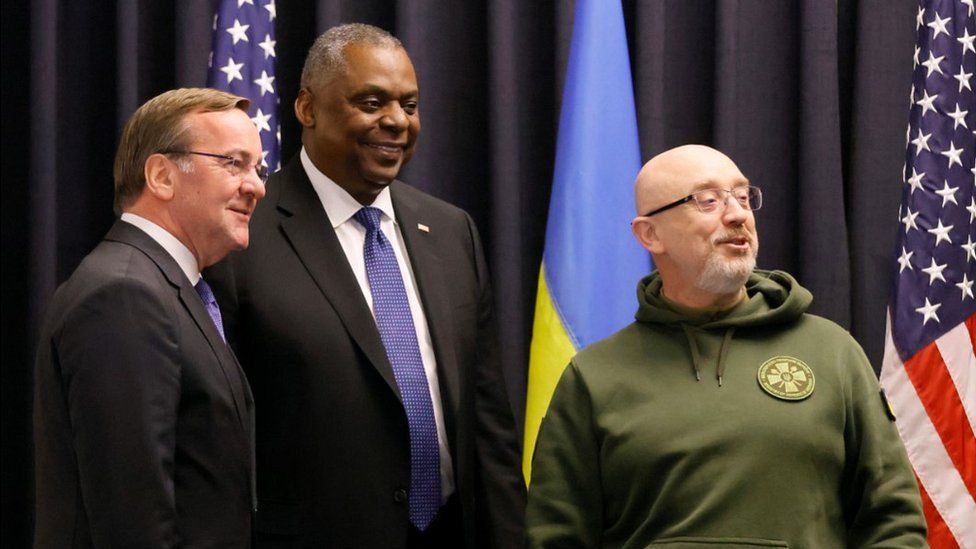 Germany has found itself in a deadlock due to several factors including international diplomacy and the legacy of World War Two.
It used to have a policy of not sending arms to conflict zones, but that was reversed following Russia's invasion of Ukraine in February 2022.
Late last year, Nato chief Jens Stoltenberg said Germany was now "among the allies providing most military, financial and humanitarian aid to Ukraine", by supplying artillery, air defence systems and Marder infantry fighting vehicles.
But Germany is reluctant to send Leopards unless they are part of a wider Nato package that preferably includes America's powerful M1 Abrams tanks. The US has rejected this, saying the Abrams tanks are impractical for Ukraine's forces because they are difficult and expensive to maintain.
Regardless, there has been pressure in some corners for the US to send its tanks, and to persuade Germany to do the same.
US Defence Secretary Lloyd Austin denied that Berlin was waiting for the US to make the first move. "This notion of unlocking – in my mind it's not an issue," he said after Friday's meeting of 54 countries at Ramstein Air Base.
Germany also remains haunted by the Nazi-era devastation it caused in World War Two, and Chancellor Olaf Scholz has been cautious about having anything to do with an escalation in Ukraine.
A leading opposition Christian Democrat (CDU) politician in Germany, Johann Wadephul, condemned the government's "policy of refusal" on the Leopards, saying it would affect Germany's international reputation. "What is Scholz waiting for?" he asked.
Poland's Foreign Minister Zbigniew Rau also criticised Germany's reluctance.
"Arming Ukraine in order to repel the Russian aggression is not some kind of decision-making exercise. Ukrainian blood is shed for real. This is the price of hesitation over Leopard deliveries. We need action, now," he tweeted.
Western countries have committed billions in other weaponry – but without Germany's commitment on tanks, it was not the result Ukraine was hoping for.
Other countries have committed to sending tanks, including the UK, which will send 14 Challenger 2s.
The US announced fresh support worth more than $2.5bn (£2bn) this week, including armoured vehicles.
The Pentagon promised an extra 59 Bradley armoured vehicles, 90 Stryker personnel carriers and Avenger air defence systems, among other supplies.
Nine European nations have also promised their own weapon support after meeting in Estonia on Thursday.
"To be able to defend our land means to be able to de-occupy our land, to liberate our territories and for this we need heavy tanks, for this we need armoured vehicles," he said.
The Leopard 2 is seen as a potential game-changer for Ukraine, as it is easy to maintain and designed specifically to compete with the Russian T-90 tanks, which are being used in the invasion.
German Defence Minister Boris Pistorius said opinions remained divided over supplying Leopards, and he denied that Berlin was blocking such a move.
Under German export laws, other countries who want to supply Leopards – like Poland and Finland – are unable to do so until Berlin gives the all-clear.
Source:
www.adomonline.com
Source link